Walkthrough
Edit
| | |
| --- | --- |
| Start point | Talk to Ali Morrisane |
| Member requirement | Members only |
| Official difficulty | Intermediate |
| Official length | Medium |
| Requirements | |
| Items required | Items from the tool belt are not listed unless they do not work or are not automatically added. |
| Recommended | The general store in Pollnivneach and Ali Morrisane's store at the quest start sells most of the items needed. |
| Enemies to defeat | |
Getting started
Edit
Pollnivneach
Edit
Head to the camel store north-west of the bar.
Ask Ali the Camel Man for two camels. Offer nothing, then offer five-hundred coins.
Give one receipt to a Menaphite Thug and one to a bandit.
The Menaphites
Edit
Pickpocketing
Edit
Go to Ali the Operator and ask to join his gang. South-west, big purple tent.
Pickpocket a villager and then return to Ali the Operator for advice.
Talk to the street urchin near the centre town fountain. Pay him ten coins and then pickpocket the villager with an arrow over their head.
Talk to Ali the Operator.
Equip the oak-blackjack and then lure a villager into a secluded area. Knock out the villager with the blackjack and pickpocket them.
Talk to Ali the Operator.
Put on the desert disguise and gloves.
Hide behind the large cactus near the mayor's house next to the fountain.
Use the keys on the door.
Search the Study desk in the south-west part of the house for a note.
Go to the first floor.
Search the landscape picture near the bed.
Hit the button on the dial to reset it, then hit 1, 1, 2, 3, 5, and 8, in that order, clockwise.
Give the jewels to Ali the Operator.
Dealing With the Thugs
Edit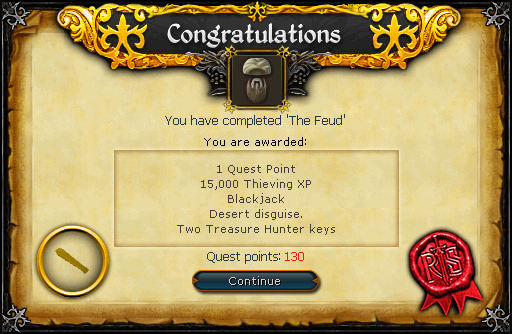 15,000 experience

500 coins

The ability to do another part of Rogue Trader
An adamant scimitar, when picked up from the Bandit champion.
Whatever Ali attempts to sell you, even though you turn it down.
Free beer when telling Ali the Barman about Traitorous Ali's drink being poisoned.
2 Treasure Hunter keys and 2 Hearts of Ice
Ad blocker interference detected!
Wikia is a free-to-use site that makes money from advertising. We have a modified experience for viewers using ad blockers

Wikia is not accessible if you've made further modifications. Remove the custom ad blocker rule(s) and the page will load as expected.