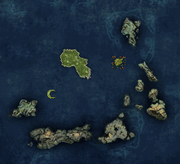 The Bowl is a region within the Wushanko Isles accessible by the Player owned ports minigame, found southeast of The Scythe. It is the fifth region opened up by the player advancing through the minigame. Rich in jade, a draw to pirates and prospectors alike. The khans of the Bowl are more interested in wealth and luxury than in military or political power, an attitude which draws merchants as thickly as flies.
Voyages to the Bowl that do not mention a specific island can be collected here.
In A Joint Effort, the Biologist and the Whaler uncover a new species of whale and wish to join forces to track its movements.
In To Gain through Death, the Assassin has heard that a merman who lures captains to their deaths has a vast supply of spices.
In To the Rescue, the player may intercede in a fight between the local Khan and some guests that he will not allow to leave.
In Return Home, the player helps a creature from another plane perform a ritual to help it return to its home world.
The lower half of 'The Bowl' resembles the real world country of New Zealand flipped 90 degrees onto its side. Falling Blossom resembles the Hawai'ian Islands' O'ahu, and most of the eastern islands in this arc resemble Hawai'ian islands.
The island Kei Pi, as well as the pirate group, Pin, are a reference to Pinkie Pie, a character from the My Little Pony: Friendship is Magic series.
NPCs

Main characters
Adventurers
Other
* Only during the Mega May event.
Experience lamps from Meg

Small
Medium
Large
Huge