Tetsu helm
Discuss

0
25,234pages
on this wiki
This item has a superior version.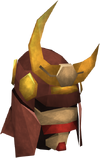 The Tetsu helm is a melee helm made in the Player-owned Ports minigame. The second best non-Dungeoneering armour of its type after the Superior tetsu helm, it requires 85 Defence and Constitution to wear. It can be made at 90 Smithing in the port's workshop, using 30 Plate and giving 10,000 Smithing experience. Boosts cannot be used to make this item.
The Tetsu helm lasts for 10 hours of combat before degrading to nothing. Unlike the superior version, it is tradeable and cannot be repaired on an Armour stand.
When dying in the Wilderness, a fully charged helm will drop 500,000 coins. The amount of coins dropped decreases linearly with the charges remaining on the helm.
WARNING: Equipping the helm will cause it to instantly degrade and become untradeable.
Combat Stats

Skill requirements
85 , 85

| Class | Slot |
| --- | --- |
| Melee | |

Weapons
Main
Off
Damage
-
-
Accuracy
-
-
Style
-
-
Attributes
Armour rating

414

Life bonus

996

Prayer bonus

0

Critical bonuses

0%

0%

0%

Compare item

A male player wearing a Tetsu helm

A female player wearing a Tetsu helm

[view] • [talk]
NPCs

| | |
| --- | --- |
| Main characters | The Navigator • The Partner • The Barmaid • The Black Marketeer • The Trader |
| Adventurers | The Assassin • The Biologist • The Convict • The Missionary • The Occultist • The Whaler • The Trapper • The Chef • The Architect |
| Other | Meg • Seasinger Umi • Warehouse worker • Port staff • Crew • Quin • Patron |

Areas
Rewards

Resources

Chimes • Bamboo • Gunpowder • Slate • Cherrywood • Jade • Stainless steel • Terracotta • Azure

Trade goods

Ancient bones • Spices • Chi • Plate • Lacquer • Pearls • Koi Scales

Equipment

| | |
| --- | --- |
| Seasinger's robes | |
| Death lotus equipment |  Hood (superior) •  Chestplate (superior) •  Chaps (superior) •  Dart (offhand) |
| Tetsu armour |  Helm (superior) •  Body (superior) •  Platelegs (superior) |

Scrimshaws

Scrimshaw Crafter •  Log-splitting (superior) •  Rock-crushing (superior) •  Tree-shaking (superior) •  Gem-finding (superior) •  Vampyrism (superior) •  Strength (superior) •  Of the elements (superior) •  Magic (superior) •  Cruelty (superior) •  Ranging (superior)

Other

 Rocktail soup •  Leviathan ring (superior) •  Reefwalker's cape (superior) •  Shark soup (scrapped)