Tetsu armour
Discuss

18
24,290pages
on this wiki
Tetsu armour is a set of degradable melee armour unlocked via Player-owned ports. 85 Defence and Constitution are required to wear it. It can be made at 90 Smithing in the port's workshop which is not boostable. Plate is the trade good required for its production.
Before the armour can be made, the ability to make the pieces must be unlocked.  This is done by collecting 4 forgotten scrolls per armour piece. A total of 12 scroll pieces are required to be able to craft all 3 pieces of the armour.
The armour comes in two versions, tradeable and untradeable ('Superior'). The Superior version has higher stats than the tradeable one and lasts 12 hours of combat, compared to the regular version's 10 hours. The Superior version can be repaired, but the tradeable version cannot and will degrade to nothing. The repair cost of the Superior armour set is &0000000002100000000000

 2,100,000 at level 99 Smithing.
Upon death: Tetsu armour will degrade slightly if a player dies (while it is equipped), and doesn't choose it as a saved item. If the armor is in the inventory, no charge is lost. An easy way to avoid degrading is to unequip the armor before death.
Tradeable Version
Edit
Item
Plate cost
Exp
Grand Exchange price
GP per Plate
Helm
30
10,000
 

2,558,707

 

85,290.23

Body
80
30,000
 

6,645,803

 

83,072.54

Legs
50
20,000
 

4,242,133

 

84,842.66

Total
160
60,000
 

13,446,643

 

84,041.52
Untradeable 'Superior' Version
Edit
Item
Plate cost
Exp
Repair cost (Bob's Axes)
Repair cost (99 )
Helm
40
10,000
 

600,000

 

300,000

Body
100
30,000
 

2,400,000

 

1,200,000

Legs
60
20,000
 

1,200,000

 

600,000

Total
200
60,000
 

4,200,000

 

2,100,000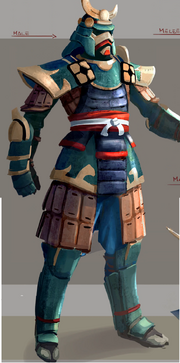 The name Tetsu is based on the Japanese Kanji "鉄" (Tetsu), meaning "Iron".
The Tetsu body is called the "Tetsu laminar" on the scroll needed for it, and the legs are called "Tetsu legplates" on their scroll. Laminar is a style of body armour.
Tetsu, along with Sea Singer armour received a graphical change on 14 January 2013. It has now a golden colour scheme, recoloured from the original teal.
NPCs

| | |
| --- | --- |
| Main characters | The Navigator • The Partner • The Barmaid • The Black Marketeer |
| Adventurers | The Assassin • The Biologist • The Convict • The Missionary • The Occultist • The Whaler |
| Other | Meg • Seasinger Umi • Port staff • Crew • Quin • Patron |

Areas
Rewards

Resources

Chimes • Bamboo • Gunpowder • Slate • Cherrywood • Jade • Stainless steel

Trade goods

Ancient bones • Spices • Chi • Plate • Lacquer

Armour

Sea singer's robes

Hood (superior) • Robe top (superior) •
Robe bottom (superior)

Death lotus armour
Tetsu armour

Scrimshaws

Scrimshaw Crafter • Log-splitting (superior) • Rock-crushing (superior) • Tree-shaking (superior) • Gem-finding (superior) • Vampyrism (superior) • Strength (superior) • Of the elements (superior) • Magic (superior) • Cruelty (superior) • Ranging (superior)

Other

Rocktail soup • Shark soup (unreleased)