Tetsu armour
Discuss

18
25,744pages
on this wiki


Tetsu armour is a set of degradable melee armour unlocked via Player-owned ports. 85 Defence and Constitution are required to wear it. It can be made at 90 Smithing in the port's workshop which is not boostable. Plate is the trade good required for its production.
Before the armour can be made, the ability to make the pieces must be unlocked.  This is done by collecting 4 forgotten scrolls per armour piece. A total of 12 scroll pieces are required to be able to craft all 3 pieces of the armour.
The armour comes in two versions, tradeable and untradeable ('Superior'). The Superior version has higher stats than the tradeable one and lasts 12 hours of combat, compared to the regular version's 10 hours. The Superior version can be repaired, but the tradeable version cannot and will degrade to nothing. The repair cost of the Superior armour set is

 2,100,000 at level 99 Smithing.
Upon death from PvP, the Superior versions will be converted to the following regardless of charge:
Dying to an NPC simply drops it to the ground (or gravestone if outside the Wilderness) with no charges lost.
Tradeable Version
Edit
Item
Plate cost
Exp
Grand Exchange price
GP per Plate
Helm
30
10,000
 2,180,286
 72,676
Body
80
30,000
 6,319,852
 78,998
Platelegs
50
20,000
 3,967,745
 79,355
Total
160
60,000
 12,467,883
 77,924
Untradeable 'Superior' Version
Edit
Item
Plate cost
Exp
Repair cost (Bob's Axes)
Repair cost (99 )
Repair cost (Trade Goods)
Helm
40
10,000
 600,000
 300,000
20
Body
100
30,000
 2,400,000
 1,200,000
50
Platelegs
60
20,000
 1,200,000
 600,000
30
Total
200
60,000
 4,200,000
 2,100,000
100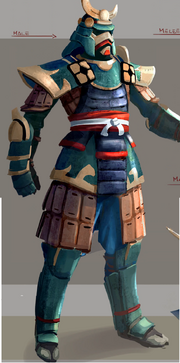 The name Tetsu is based on the Japanese word "鉄" (pronounced Tetsu), meaning "Iron".
Given its relation to Player-Owned Ports the Tetsu armor may also be derived from Guillaume Le Tetsu, 16th century French privateer, explorer and cartographer.
Tetsu, along with Sea Singer armour, received a graphical change on 14 January 2013. It has now a golden colour scheme, recoloured from the original teal.