Teleport to house (item)
Discuss

3
22,527pages
on this wiki
This article is about the teleport tablet. For the teleport spell, see
Teleport to House
.
The Teleport to house tablet is an item that can be used by any player to teleport to their player-owned house. Players can create this item on a Mahogany eagle lectern (requiring 67 Construction) as long as they have 1 Law rune, 1 Air rune, 1 Earth rune, and 1 soft clay and at least level 40 Magic. Combination runes CAN be used, allowing for one space to be freed by using dust runes. You gain 30 Magic experience for each tablet you create, each tablet takes 4 seconds to make.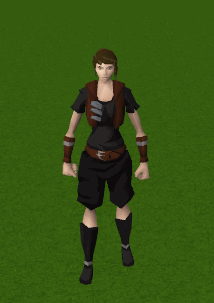 This tablet can be made regardless of the player's current spellbook. As with all tablets (except for the Ardougne teleport tablet), the user does not need to have the relevant Magic level to use it. All tablets, including this one are an efficient method of earning money and magic experience. They are very popular with the community, as they take up 1 inventory space, making a good 1-click teleport and great for tablet making/construction training. A good strategy in making tablets is to use a servant to obtain the soft clay from the bank. Note that your servant will charge a certain fee for this.
Chipped Teleport to house quest reward
Edit
After the quest Love Story, a player can use a chisel with a Teleport to house tablet to get a Teleport to house (chipped).

It can be set to the following locations.
Making money with tablets
Edit
Making these tablets can be considered a good method of making money. It can make up to 342 coins profit without the use of any staff, 351 coins with the use of any earth rune supplying staff, and 355 coins profit with the use of any air rune supplying staff. Players trying to make money should carry the following:
24 soft clays or clays if you have a Sink in your POH
Ring of Kinship (for banking)
24 Law runes
24 Air runes
1 Staff of earth (wielded)
One "Teleport to house" tablet
Players with a Mahogany Eagle Lectern can teleport to their house, make 24 tablets, teleport to Daemonheim (or any other place close to a bank), bank all-but-one of the tablets, withdraw 24 soft clays, 24 law and air runes, then teleport back to their house. This can be considered a good way to train Magic, as players obtain experience for making the tablets, and they may sell the tablets in the Grand Exchange to pay for the runes and still make a fair profit.
The first, best, alternative for these is to have the Player House located at Rimmington and carry the following...
Pickaxe (to acquire clay from nearby mine)
lunar spellbook humidify (68 magic and completion of dream mentor) or a water source in your Kitchen
As many Law and Air/Earth Runes as possible
Staff of Earth/Air
Because the initial runes and the completed teletabs are stackable, a player can stay within the vicinity of the P.O.H. and nearby mine for as long as it takes to convert all the runes into teletabs. Assuming of course there is no Varrock portal available, you could also bring a single fire rune to facilitate teleport back to Varrock/Grand Exchange when done. Another option is to bring a lava battlestaff (or equivalent) and therefore save the extra inventory space taken up by the fire rune for another piece of soft clay.
An alternative method of bringing in soft clay to make teletabs is to hire a servant (such as a butler) and have him or her fetch the soft clay from the player's bank. The Demon Butler (level 50 Construction required) charges 48 coins per item that he brings from the bank (10000/8/26).
An alternative strategy is to carry the following:
And wield the following:
Also advised is having Portals for easy banking, preferably Varrock portals as it puts you close to a bank and the Grand Exchange. A mounted Amulet of glory can also serve to make the Edgeville bank an option.
All-in-one teleport
Edit
When properly set-up, a single house teleport tablet can allow fast travelling to up to 17 different locations. In fact, the tablet can be chipped, allowing travel to 7 different locations while the player's house contains 6 different portals and an amulet of glory providing 4 extra locations.
The optimal set-up would be to have a house in Yanille and the 6 portals set to all possible locations excluding the Watchtower.
Lodestone Network Home Teleport

| | |
| --- | --- |
| Free-to-Play | Lumbridge • Draynor Village • Edgeville • Al Kharid • Falador • Port Sarim • Varrock |
| Members | Lunar Isle • Ardougne • Yanille • Seers' Village • Catherby • Burthorpe • Taverley • Bandit Camp |

Basic magics

| | |
| --- | --- |
| Basic teleports | Mobilising Armies Teleport • Varrock • Lumbridge • Falador • House • Camelot • Ardougne • Watchtower • Trollheim • Ape Atoll |
| Teleport other | |
| Teleport tablets | Ardougne • Camelot • Falador • Lumbridge • House • Varrock • Watchtower • Rimmington • Taverley • Pollnivneach • Rellekka • Brimhaven • Yanille • Trollheim |

Lunar spells

| | |
| --- | --- |
| Single teleports | Ourania • Moonclan • Waterbirth • South Falador • Barbarian Outpost • North Ardougne • Port Khazard • Fishing guild • Catherby • Ice Plateau • Trollheim |
| Group teleports | Moonclan • Waterbirth • Barbarian Outpost • Port Khazard • Fishing guild • Catherby • Ice Plateau • Trollheim |

Ancient Magicks

Paddewwa • Senntisten • Kharyrll • Lassar • Dareeyak • Carrallangar • Annakarl • Ghorrock

Moving-over-distance Spheres

Dorgesh-kaan sphere • Goblin village sphere • Plain of mud sphere • Bandos throne room sphere

Runecrafting teleport tablets

Air • Mind • Water • Earth • Fire • Body • Cosmic • Chaos • Astral • Nature • Law • Death • Blood • Runecrafting Guild

Teleport scrolls

Miscellania • Lumber yard • Bandit camp • Nardah • Phoenix lair • Tai Bwo Wannai

Discontinued Teleports

Bounty Locate • Edgeville Home Teleport • Lunar Home Teleport