Tectonic armour
Discuss

3
26,527pages on
this wiki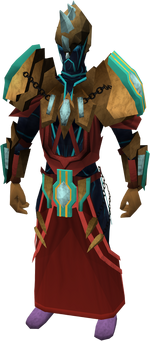 Tectonic armour is level 90 magic armour, made with materials dropped by Vorago, and from the Wizard's guild. A high Runecrafting level is required to craft this from the raw materials (91-93 Runecrafting, in order of mask, bottom, and robe top). The armour can be made with assists or boosted Runecrafting levels. It is twice as durable as the superior version of the Player-owned Ports armour. However, the degrading of this armour is very similar to that of corrupted dragon/ancient equipment and repairable degradables. Upon clicking on the armour to wear it, a warning message appears, informing the player that if worn, the armour will no longer be tradeable. Any piece of the armour will degrade after 60,000 hits, and none of them can be repaired at any point.
This armour is categorized as power armour. Whilst wearing pieces of power armour, the player will receive a damage boost as long as he or she is using a weapon of synonymous class. Tectonic is a tier-90 magic-based armour, so a magic weapon is needed to receive the bonus. The damage boost received is found by taking a percentage of the base weapon damage of a tier-90 main-handed weapon/spell/ammo of "Fastest" speed (864). Each piece of power armour that worn gives a higher percentage of this number, up to a maximum of 8%. The Body gives 3.5%, the Legs give 2.5%, and the Helmet gives 2%. Wearing an entire set of this power armour will give a 69.12 damage boost to your Magic attacks. Additionally, celestial handwraps can increase the maximum to 9%, or 77.76 damage, as they are the tier-90 magic power gloves.
It consists of 3 pieces:
The full set requires 84 tectonic energy and 6 stones of binding.
Made from raw materials, the full set costs

 29,865,540 coins.
Tectonic Armour Grand Exchange cost
Tectonic mask
 

5,585,168

[view]
Tectonic robe top
 

16,670,851

[view]
Tectonic robe bottom
 

11,156,751

[view]
Total price
 33,412,770
[view]
•
[talk]
Components and Bonuses
Edit