Tectonic armour
Discuss

3
24,286pages
on this wiki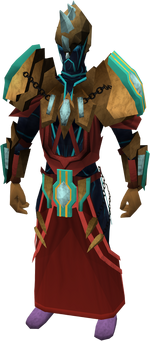 Tectonic armour is level 90 magic armour, made with materials dropped by Vorago, and from the Wizard's guild. A high Runecrafting level is required to craft this from the raw materials (91-93 Runecrafting, in order of mask, bottom, and robe top). You can make the armour with assists or boosting your Runecrafting level to the desired level. It is twice as durable as the superior version of the Player-owned Ports armour. However, the degrading of this armor is very similar to that of corrupted dragon/ancient equipment and repairable degradeables. Upon clicking on the armour to wear it, you will be given a warning message that if you wear it, you will be unable to trade it anymore. Upon taking 60,000 hits with the piece it will degrade, and is irreparable at any point.
It consists of 3 pieces:
The full set requires 84 tectonic energy and 6 stones of binding.
Made from raw materials, the full set costs &0000000070992402000000

 70,992,402 coins.
Tectonic Armour Grand Exchange cost 
Tectonic mask
 

14,330,268

[view] 
Tectonic robe top
 

45,289,189

[view] 
Tectonic robe bottom
 

29,181,992

[view]
Total
 

88,801,449

coins
[view]
•
[talk]
Components and Bonuses
Edit
Monsters

Vorago • Scopulus • Stone clone • Vitalis

Magic gear

Seismic wand • Seismic singularity • Tectonic energy • Tectonic mask • Tectonic robe top • Tectonic robe bottom

Equipment

Maul of omens • Ancient weapon handle • Ancient weapon piece (a) • Ancient weapon piece (b)

Other

Ancient summoning stone (Vitalis) • Stone of binding • Vorago shard • Borehole
Free-to-play

Wizard robes • Druidic mage robes • Imphide robes • Combat robes • Spider silk robes • Batwing robes

Members

Zamorak robes • Elemental armour • Mind armour • Body armour • First tower robes • Mycelium web armour • Cosmic armour • Fungal armour • Mystic robes • Enchanted robes • Dagon'hai robesNecromancer • Lunar equipment • Splitbark armour • Chaos armour • Sacred clay robes • Skeletal armour • Infinity robesDragonbone • Battle robes • Grifolic armour • Third-age mage armour • Robes of subjugation • Ahrim's set • Ganodermic armour • Virtus armour • Zuriel's equipment • Sea singer's robes • Tectonic armour