Talk:Treasure Trails/Guide
22,530pages
on this wiki
New Clue
Edit
Err, sorry if I'm posting in the wrong place, I'm a wiki noob =P
I got a Level 2 clue:
"Cry in Catherby archery shop.
Bow or curtsey before you talk to me.
Equip a round red and black snelm,
a hard leather body and an
unblessed silver sickle."
I believe its new?
I believe from what I've read on the RuneScape forums, items needed for some Clue Scroll's are now slightly random (selected from a list of several items), I've also had something similar.
- TLKit 13:39, August 8, 2010 (UTC).
i found this:
Beckon in the Digsite, near the eastern winch. Bow or curtsy before you talk to me. Equip a pointed red and black snelm, snakeskin boots, and an iron pickaxe.
its very similar to another one, is that snelm a blood'n'tar snelm btw? Pryon 18:02, August 8, 2010 (UTC)
I uploaded a picture and put it in Elite Clues, I am new to editing so if someone could fix it for me, it is the Melzars Maze compass clue, Daethman7
Since when did this page go so far downhill? It used to be as short and concise as possible. I think we should remove all of the superfluous information about how to obtain common items such as armor and just make it a wiki link if someone does not know where to get them. This will clean up this page a lot and lower the size of this page. It was already a big page to begin with without all of the unneeded and long-winded explanations that were added. If you support me making this article much shorter and more concise please post support below. Once I get a few I will go through the entire document and do some additional editing (I have already removed some of it). -Sardaukar857 18:14, August 6, 2010 (UTC)
Yes please. (wszx) 20:47, 6 August 2010 (UTC)
I think Treasure Trails Guide and Full Treasure Trails Guide overlap a lot and information can be cut out, I suggest a page called Treasure Trails Guide (what to do when you get them, what coordinates mean, how to do puzzle boxes etc) and Treasure Trails Locations (coordinates, scans, puzzle solutions etc). I also think having scrambled and solved pictures for the puzzle boxes isn't necessary. PikachuMayhem 18:53, August 9, 2010 (UTC)
Agree about overlap. Disagree about un/solved puzzle pictures. Not everyone already knows what they look like. We need to provide information for new people and not just veterans. Mamabear47 17:25, August 15, 2010 (UTC)
Not sure where this would be catagorized and can't find answer
Edit
"The cheapes water for miles around, but they react badly to religious icons."
I am pretty sure this is Nardah but I don't know what to do there. I talked to almost every one there including water salesman, prayed at the shrine and searched boxes, crates, and bannana trees. Does anyone know what I need to do and where to put the answer?
Darth Paramecium 16:36, August 18, 2010 (UTC)
Try the Bandit Camp. I'm not sure where their water would be, perhaps the bar, but they definitely react badly to religious icons, seeing how if you're wearing some sort of God item, they attack you. :P 16:37, August 18, 2010 (UTC)
I just got that same answer on the RS forums, I was so focused on Nardah I didn't try to think of other posibilities. Does any one know what page the answer to this clue scroll should be. Darth Paramecium 16:45, August 18, 2010 (UTC)
Compass location groups
Edit
Is there any reason in particular why the compass locations are grouped into southwest, southeast, etc? I think it would be much more useful if grouped into runescape regions: Agarnia, kandarin, morytania, etc Henneyj 23:29, August 30, 2010 (UTC)
hihihihihihiihihihihiihihiihiihihiiihihihihihui wiki is awesome
79.70.96.103 17:50, September 22, 2010 (UTC)
Chart, sextant and watch absolutely required for coordinate clues?
Edit
Would it work to just dig in the spot the coordinate is without having a watch, sextant and chart or are they absolutely needed else you can't get the next clue? Because, I'm digging at the exact same spot the person is shown in the picture in the guide, but it isn't working. XJoMan112x 00:05, February 6, 2011 (UTC)
You absolutely need them otherwise you won't find anything. Cortanakya 15:03, February 13, 2011 (UTC)
New coordinate
Edit
I found a new coordinate: 15 degrees 48 minutes north, 13 degrees 52 minutes east
Any clues?
77.188.242.78 17:23, March 15, 2011 (UTC)
And another new coordinate :/
04 degrees 41 minutes north, 03 degrees 09 minutes west
77.188.180.65 23:30, March 16, 2011 (UTC)
I have a new one as well: 16 degrees 20 minutes north, 12 degrees 45 minutes east. I'm working on figuring mine out now. Dsctatom 22:38, March 15, 2011 (UTC)
Handled mine. Yours is roughly where the old clue on top of Edgar's cave on Trollheim was. Dsctatom 22:58, March 15, 2011 (UTC)
I have the 27 paces on Mos Le'Harmless, and all the places that have pictures on here is not it :( could screen shots be taken for the rest of the locations that dont have pictures?
Neitiznot-Jatizso clue group?
Edit
I do not see the Neitiznot/Jatizso clue group on the Compass page. Am I missing it? If wiki needs it, I'll add that I almost got my tail kicked because Another Fansite (*cough*) did not include the Jatizso northeast mine area on their list of possibilities.. Scroll reads "This scroll will work on the Fremennik Isles of Jatizso and Neitiznot. Orb scan range: 16 paces." >.> Pokemama 02:23, June 9, 2011 (UTC)
What if we can't equipt a certian item?
Edit
What do we do if we arent a high enough level to equipt something, but it is required to equipt the item? what do we do?
but i hate ranging!!!! lol
Guthix wizards
Edit
Some scans mention that Guthix wizards may attack, and some do not. Do some scans have the chance to trigger the wizards and some do not? I have removed instances of mentions of "No Guthix wizard" or "A Guthix wizard may attack" and "A Guthix wizard will attack", as clue trailers should be aware of them throughout any of these clues anyway.

ChainChomp2 (Talk)

19:28, June 21, 2011 (UTC)
Wrong Cooridinate?
Edit
With the 00.20 S 23.15 E clue, i stood exactly where the guy in the pic stood, but i never got anything when i dug at that spot. Is that pic correct, or am i doing something wrong?

Candle Max
08:44, June 29, 2011 (UTC)
There is a New Person to talk to on Clue Scroll help me figure out who this is please!!
P. AK MI
New Clue ScrollEdit
This Anagram receals who to speak to next:
P. AK MI
who is this please Help
75.22.32.109 19:36, July 23, 2011 (UTC)

That's not "P. AK MI" that's "R. AK MI". The anagram is "Kamir" and he is the kebab seller in Al Kahrid. -- NO MERCY FOR THE NOOBMASSES 18:32, July 26, 2011 (UTC)
Caroline
Edit
For this NPC, the guide states that the answer is 0 after Salt in the Wound, 11 before. However, I haven't yet done this quest and the answer is still 0. Presumably, it changes at some other point after another quest. Or this is a glitch. Egdcltd 16:30, August 21, 2011 (UTC)
Morytania Compass
Edit
Hi all! I have a new Morytania Compass clue location, but it's a strange one. It's trying to send me into an area that there's absolutely no access for. I don't know if this is a glitch in the clue scroll, or whether I just don't know where it's really trying to send me. Here's a screenshot of the area it's trying to put me in:
[[File:morytaniacompass.png]]
I've tried from every angle, but I just can't get in there. Any help or tips would be greatly appreciated!--Darkdeath19 17:22, August 21, 2011 (UTC)Darkdeath19
It was accessible before the graphical updates to Morytania. An oversight by Jagex. You should submit a bug report or post on the forums or something.

Fsw

e1

Lore project

•

Fun gallery




My quests

•

Cutscenes

17:26, August 21, 2011 (UTC)
You're fabulous, thank you for the quick response and the help! I submitted a bug report immediately, so hopefully there's some response. In the meantime, this clue gets stashed in the bank. Thank you again! --Darkdeath19 17:31, August 21, 2011 (UTC)

No problem!

Fsw

e1

Lore project

•

Fun gallery




My quests

•

Cutscenes

18:15, August 21, 2011 (UTC)
Out of curiosity, how did one access the area before the graphics update rendered it inaccessible? --Darkdeath19 20:59, October 21, 2011 (UTC)
So I got a medium clue scroll from a guard and did a bunch of stuff then I got the coordanants that lead to south of taverly I stood in the exact same place as the guy I dug and it said nothing interesting happens I did that for 20 freaking minutes and still came up with nothing! Please help me someone! I really want to finish it.
you need to have your sextant chart and watch with you otherwise you cant find the coordinate clues. -- 02:06, October 19, 2011 (UTC)
Can't find 1 degrees 50 minutes north, 24 degrees, 0 minutes east. Can someone help?
Doesn't look like we have it in the guide, so you may be on your own. Looks like its somewhere in lummy swamp. Is it a treasure trail clue or something else that uses coordinates? -- 01:08, December 30, 2011 (UTC)

I'm having trouble with the Cryptic clue in Witchaven. On the Fishing platform, in the specified shack, the crate where the next clue is supposed to be in is empty for me, and i have the clue scroll with me to let the crate have the next clue inside. I'm wondering if having Salt In The Wound unfinished is creating an instance where the crate remains empty?
The coordinates for Green Spider Island
Edit
I've dug all around that area and have come up with nothing.
New clue (medium) map
Edit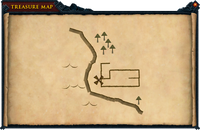 Anyone know where this might be? I've looked and looked at the world map, and I cannot find where this building next to water might be.
 Sal 
21:35, July 4, 2012 (UTC)
Chemist's house in Rimmington. I will rename the file accordingly. Also, please template your signature. AnselaJonla 22:23, July 4, 2012 (UTC)
What it says on the title. The menu should stay open by default since it's the easiest way to navigate the page to the desired guide section.
East Karamja clue
Edit
The clue at 01 degrees 18 minutes south, 14 degrees 15 minutes east (which is on the east side of karamja) has a Shaikahan prowling around the area. Anyone who runs to that area to dig is very likely to be attacked. Should it be considered a fight? --Lord Daedraconian (talk) 09:34, November 2, 2012 (UTC)
The "Table of Contents" part is missing from the article.
It had existed some month before (see in the previous versions).
It is hard to search for cryptics without it!
80.99.240.53 14:05, November 27, 2012 (UTC)
Broken links to pictures.
Edit
They say "The deletion and move log for this page are provided here for convenience:
   02:57, March 9, 2012 RSW image renamer (Talk | contribs) moved File:Coordinate clue 06.11S 15.07E.PNG to File:Coordinate clue 06.11S 15.07E.png ((Semi-automated) Move requested by Hofmic (talk): Oh, god, I did that again?) (revert)"

Still needs to be fixed. Mamabear47 (talk) 05:42, January 4, 2013 (UTC)
Compass - Seer's village
Edit
None of the pictures are at this location, and the one that is missing is "At the centre of Seer's Village". I'm pretty sure that location isn't the center, so what should I call the location?--Jlun2 (talk) 09:43, April 30, 2013 (UTC)

update since the nexus was put in the lumby swamp: (00.30N,24.16E) is now (00.50N,24.16E)
needs a new picture and such, it is five steps north of Ysondria, two steps west.  wish i had the ability to add a photo of location and such, but i can't, sorry. good luck whoever is a better wiki editor than i! 76.180.124.178 05:47, May 14, 2013 (UTC)