Talk:Chaos Tunnels
22,529pages
on this wiki
The Route of All Evil - Southwest and Northeast rifts The root of all evil - song from dream theater and it looks like also TV show.
Training in the Chaos Tunnels?
Edit
How the hell are you supposed to train in the Chaos Tunnels when the familiars' attacks give you 0.1 xp each time it hits? You might as well cut down regular trees to train your Woodcutting to level 99. So, unless I'm misunderstanding something, the tunnels can't be used effectively to train Summoning. You'll get, like, 10xp an hour?  Tien  13:38, 18 January 2008 (UTC)
Well, if you made the pouches, they can make you money (doing things faster). Butterman62 (talk) 13:43, 18 January 2008 (UTC)
I got my own ways of making money. =p But on the recent updates on the RS main page, if you read the section about the Chaos Tunnels, it says that it'll "speed you on your way for that Summoning skillcape!" *makes ugly face* Sure.  Tien  17:52, 18 January 2008 (UTC)
I think they're saying that because nearly all of the monsters down in the tunnels drop charms. But I agree, using familiars for combat is practically pointless, and the tunnels don't help much. Morian Smith 13:08, 23 January 2008 (UTC)
That's right; killing monsters in the tunnel is a good way to get charms. You train summoning by making pouches. Everything else is secondary -- or tertiary, like using familiars to fight for you in the tunnels.
Needs map
Edit
it needs map.

done.76.196.218.124 12:27, 27 January 2008 (UTC)
Could be done much better. The rift map doesn't number the rifts but the monster map does. You have to keep scrolling back and forth to find the rift close to the monsters you want. The monsters map doesn't show which chambers the portals in the tunnels connect to.
Improved! - Inelcirc 20:02, 24 October 2008 (UTC)
I read a lot about a boss fight down there, but aside from allusions to it from other articles, I can't find anything about the actual boss. Can anyone help me figure this out?
Rendova
00:21, 5 March 2008 (UTC)
You should go to the page called "Hunt for Surok" or something to read about the boss. Be sure you do the miniquest first, or else the boss won't be there. The boss's name is Bork.
Aggressiveness
Edit
I also have a question: is every single monster in the tunnels aggressive?  Tien  21:50, 6 March 2008 (UTC)
No, not all monsters down there are aggresive, allthough most of them are.--Pkthis 15:11, 19 March 2008 (UTC)
Some seem to be always aggressive, regardless of your combat level. Others are aggressive if your combat level is twice theirs or less. TO BE DONE: Check out if normally non-aggressive monsters (like jellies in the Fremennik slayer dungeon) are aggressive in the tunnels. - Inelcirc 20:15, 24 October 2008 (UTC)
Normally non-aggressive slayer monsters in the chaos tunnels like dust devils are not aggressive. (98.226.241.30 16:06, June 11, 2010 (UTC))
Broken portals
Edit
The article is not specific enough about broken portals. It needs to be clarified if some portals are always broken or if it is only temporary. Three tests have been made on one portal, continually broken, but that is not enough evidence.
It's hard to tell for sure, but I guess that no portal is permanently broken. Jagex's knowledge base on the tunnels can be read to imply this. Maps of the tunnels from other fan sites show broken portals, but they aren't always the same portals! Since the other sites probably didn't map the tunnels all at the same time, this suggests different portals are broken. - Inelcirc 20:15, 24 October 2008 (UTC)
In mapping the dungeon over the last few days, I've tested most portals. I've just gone back and test more and so far have only found one that has never worked correctly. I have also tested some portals marked as broken on maps on other fan sites and all have actually worked. BTW, some of the other fan maps have other errors, such as missing portals or monsters incorrectly listed for some caves. I think our map is now the most accurate one out there now. - Inelcirc 21:37, 25 October 2008 (UTC)
Dark squall
Edit
We need a mention of the Dark Squall NPC. Although not much is known about him, this would be the first fansite to incorporate him into a guide. I have pictures of him in the Forums here. Its under the title Dark Squall Caught on Cam.
~Ixindor~
Someone's mentioned him. - Inelcirc 20:15, 24 October 2008 (UTC)
Below the fourth portal, into mossies. If you go south, into the one with lava, it's fire giants, and the green one to the east is poison spiders and jellies. The map is also low quality.tobylaneTalk 17:17, 12 September 2008 (UTC)
Map is improved. - Inelcirc 20:15, 24 October 2008 (UTC)
Discrepancy
Edit
The list of monsters in the Chaos tunnel indicate that there are Greater demons somewhere in there, but I'm not finding them on the map. Which is it? Are greater demons in the Chaos tunnels, or are they not? --nekobawt 03:23, 4 January 2009 (UTC)
Good catch, no greaters. They probably had them confused with the blacks.--Degenret01 03:35, 4 January 2009 (UTC)
I only found one mummy area on the map, and it was next to Gargoyles. There are only 3 mummies in there at a time, so does that mean that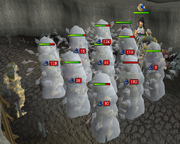 is an outdated image and that Jagex has since reduced the number of mummies?
Dsctatom
20:40, 22 March 2009 (UTC)
Nope, there's another room just to the north of the one you found. WWTDD? 20:53, 22 March 2009 (UTC)
The first hint says that "Monsters inside the Chaos Tunnels drop Charms more often than the same monsters located elsewhere. Because of this, players often prefer fighting the creatures in the tunnels instead of choosing other places." Is this true? or just speculation?
This used to be the case for black demons (the ones in ct dropped more charms than ones in talvery) but this got fixed ages ago. I don't know of any other monsters that are like that so I think this should be removed.
The answer.
Edit
Boss:
http://www.tip.it/runescape/index.php?rs2monster_id=1120
MiniQuest:
http://www.tip.it/runescape/index.php?page=Hunt_For_Surok.htm
Random Events
Edit
Recently, while trying to aquire crimson charms, I have been spending a lot of time camping black demons. Everytime I stay in the Chaos Tunnels, I have not gotten a single random event. However, within 30 seconds of leaving every time without exception, I have gotten a random event. I wonder if Jagex updated the chaos tunnels so random events are not possible. Has anyone else gotten random events within the last week or so while actually in the tunnels? This is almost identical to when I am dungeoneering and after leaving, I get random events almost immediately afterwards. And I know it is impossible to get a random event while in a Daemonheim dungeon. (Stolecretion 19:58, June 10, 2010 (UTC))
The map is wrong for me...
Edit
The map of the chaos tunnels has a differend portal connectivity to the one I see in game (this is easily checked by hovering over the intra-map links of the in-game map).
The Giant Crypt Rat room leads to the Zamorak Warrior/Dagon'hai Monk room, not the Giant Rock Crab room.
The Poison Spider/Jelly room leads to the Giant Rock Crab room, not the Zamorak Warrior/Dagon'hai Monk room.
When I go in any of these portals it tells me that the power of Surok Magis is removed, allowing the portal to operate correctly.
I presume that the Hunt for Surok miniquest changes the layout of the portal routes somewhat?

Magma2050 T C E

13:26, February 27, 2011 (UTC)
Post Wilderness/Free Trade update map
Edit
The map and entrance locations on the article are pre-Wilderness/Free Trade ones, as shown by the references to Stealing Creation, and the actual entrances themselves. AnselaJonla
teleporters taking you to edgeville?
Edit
This happened to me and a friend, and I didn't see anywhere on the wiki or the news post saying that this was intentional, nor do I think that the teleporters taking you to the wildy wall between edgeville and the G.E. would be intentional, but it does happen, and I'm wondering if anyone knows whether it's supposed to be happening or not. Jetdeagon (talk) 02:08, November 9, 2012 (UTC)