Walkthrough
Edit
Start point

Talk to Timfraku in his house in Tai Bwo Wannai.
Member requirement
Members only
Official difficulty
Intermediate
Length
Long
Requirements

Quests:

Recommended

Items required
Items from the tool belt are not listed unless they do not work or are not automatically added.
Recommended

23 free inventory spaces recommended to minimise walking
Food and antipoison

Enemies to defeat
Getting started
Edit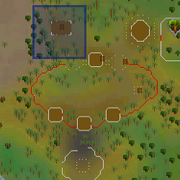 Go north, talk to Lubufu. You may have to talk to him twice. He can be found on the southern coast of Brimhaven, marked with a Fishing spot icon .

Talk about him and ask what he does.
Tell him you could help collect bait. (Ask how old he is)

Go to the lake south of Tai Bwo Wannai and fish 23 raw karambwanji.
Talk to Lubufu, give him 20 raw karambwanji and agree to be his apprentice.
Use the drop trick to obtain two vessels.
Use one raw karambwanji on a karambwan vessel and fish at the spot next to Lubufu.
Use another karambwanji on a vessel and keep it for the next step.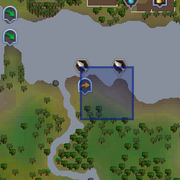 Talk to Tiadeche north-east of Tai Bwo Wannai, across the river. (fairy ring code dkp).
Give him the loaded vessel.
Say yes to take the raw karambwan.
Kill a Jogre and take its bones while in the area.
Go to Musa Point, buy one Karamjan rum from the pub and pick a banana. (Teleporting with the rum will destroy it)
Tamayu and the Shaikahan
Edit
Go to the shore near Cairn Island and take a seaweed.
Chop nearby dead trees to get 2 logs; cook then grind up the karambwan. There is also a fire south of Tai Bwo Wannai.
Use the paste on your spear to poison it. (If you don't have a spear, killing a nearby hobgoblin will sometimes drop a spear.)
Talk to Tamayu south-east of Tai Bwo Wannai, near the mining area.

Ask him option 3: "When will you succeed?"
Agree to hunt with him.

Use the poisoned spear and agility potion on him. Hunt with him again.
Kill a nearby monkey, take the corpse use it on Tamayu to skin it.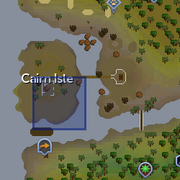 Go to Cairn Island, climb the rocks and cross the bridge. (The surge ability can be used to bypass the agility check for the bridge.)
Talk to Tinsay.
Slice the banana, add the slices to the rum and give it to him.
Use seaweed on the monkey skin and give him the sandwich.
Right-click and light the jogre bones.
Grind your last raw karambwanji (the fish, not the octopus) into paste and use it on the burnt jogre bones.
Make a fire and cook the pasty bones on it.
Give him the marinated bones.
Give him a karambwan vessel; he'll give you a crafting manual.
Finishing
Edit
Additional rewards
Edit
Talk to the three brothers located in the southernmost houses in the village to receive experience rewards.
Ad blocker interference detected!
Wikia is a free-to-use site that makes money from advertising. We have a modified experience for viewers using ad blockers

Wikia is not accessible if you've made further modifications. Remove the custom ad blocker rule(s) and the page will load as expected.