Swordfish gloves
Discuss

14
22,528pages
on this wiki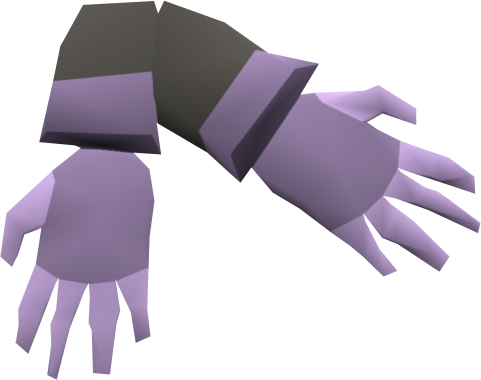 Swordfish gloves are a reward that can be purchased with 200 tokens from the Fist of Guthix minigame and cannot be bought from the Grand Exchange. They require a Fishing level of 65 to wear (this can not be achieved by using boosts, e.g. Admiral pie). When worn, the gloves grant an additional 100 Fishing experience for every swordfish caught. This extra experience boost lasts until 1,000 Swordfish have been caught, after which they crumble to dust. To check how many charges players have left, right click in the equipment screen and select "inspect". Players can only buy one pair of gloves until that one had been destroyed. Trying to buy two pairs at once will result in buying only one, and receiving a notification.
Contrary to popular belief, these gloves DO NOT make you catch swordfish all the time. They have the same catch ratio depending on your Fishing level.
Combat Stats

| Class | Slot |
| --- | --- |
| Unknown edit | |

Weapons
Main
Off
Damage
-
-
Accuracy
-
-
Type
-
-
Attributes
Armour rating

0

Life bonus

+0

Prayer bonus

0

Critical bonuses

0%

0%

0%

Compare item

A player wearing swordfish gloves

[view] • [talk]
Experience
| Condition | Swordfish |
| --- | --- |
| Normal Harpoon | 100 (Normal exp.) |
| Gloves | 200 (100 exp. extra per raw swordfish) |
| Sacred Clay Harpoon | 200 (Double exp.) |
| Both | 400 (100 exp. extra per raw swordfish x 2 SC Harpoon) |
The experience gained from this item is doubled from using a volatile clay harpoon(or Sacred clay harpoon) from the Stealing Creation activity. With both swordfish gloves, and a volatile or sacred harpoon equipped, a player receives 400xp per swordfish caught with the Morphic Tool, and 410exp with the Volatile tool. It is recommended to use Morphic as the Volatile does not significantly increase the exp rate.
Note: If you catch a tuna, they do NOT lose a charge.
Note: Although called swordfish gloves, they cannot be used to pick belladonna plants, which require a pair of gloves to be worn to pick.
Note: If you are member and wearing swordfish gloves, it will NOT improve your chances of catching a Big swordfish!
Robes
Dragonhide coifs
Gauntlets

Bronze • Iron • Steel • Black • Mithril • Adamant • Rune • Dragon

Shields
Gloves