Walkthrough
Edit
| | |
| --- | --- |
| Start point | Maggie the witch, north of Draynor Village, west of the Draynor lodestone. |
| Member requirement | Free to play |
| Official difficulty | Novice |
| Official length | Short to Medium |
| Requirements | Skill requirements are not boostable. |
| Items required | Items from the tool belt are not listed unless they do not work or are not automatically added. |
| Recommended | Active lodestones in Draynor Village and Port Sarim. |
| Enemies to defeat | |
Getting started
Edit
The Puzzles
Edit
Talk to Hetty in Rimmington.
Enter the trapdoor just south of her house.
Talk to Gus.
Take from the crate that's labelled Newts and Toads.
Place the label of the creature you removed on that box.
Place the other two labels on the other two boxes in either order and talk to Gus. If this is the wrong combination, swap the last 2 labels placed and talk to him again.
Take a newt from the newt crate.
Talk to Hetty.
Use the ointment on the broom.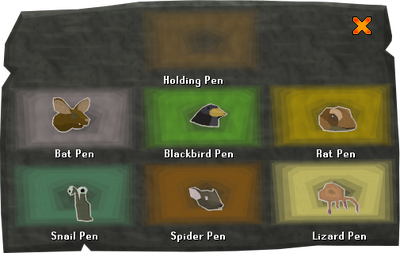 Solution:

Put the blackbird in the holding pen.
Put the rat in the blackbird pen.
Put the spider in the spiders pen.
Put the lizard in the reptile pen.
Put the rat in the rat pen.
Put the blackbird in the blackbird pen.

Open and search the chest.
Talk to Betty.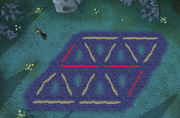 Talk to Aggie in Draynor Village.
Complete the puzzle.
Talk to Aggie
Finishing up
Edit
Talk to Maggie.
Stir the cauldron with the broomstick
Talk to Maggie.
Quest complete!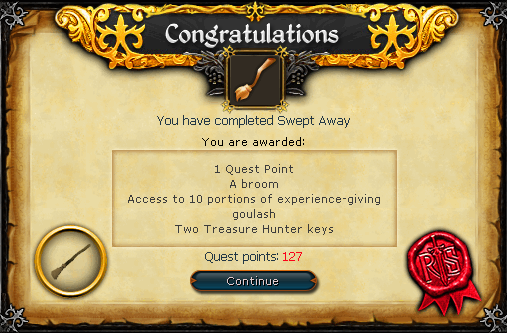 Music unlocked