Swamp snake
Discuss

0
22,435pages
on this wiki
Swamp snake
Release date
28 March 2006 (Update)
Members?
Yes
Combat level
60, 120 or 140
XP per kill
Unknown edit
Always drops
Snake hides (must use knife to retrieve this drop). Bones if your escort does more damage.
Examine text
A large snake that thrives in swamps.
after killing:A snake that thrived in the swamp, until it met you.

Combat stats
LP
Max hit
Unknown
50 (approx), ? or 180
Attack
Defence
Ranged
Magic
Unknown
Unknown
Unknown
Unknown
Other
Immune to Poison?
Immune to Stun?
No
Unknown edit
Attack Speed

Speed 5 (Interval: 3.0 seconds)

Aggressive?
Poisonous?
Yes
No
Attack styles
Weakness
Melee
Magic

Arrows

[view] • [talk]
A Swamp snake is an aggressive monster encountered during the Temple Trekking and Burgh de Rott activities. When killed, a snake usually leaves behind a Dead swamp snake as its Remains. If the player's follower in the activity becomes involved in combat with a swamp snake, the snake may drop regular Bones instead, even if the player kills the snake.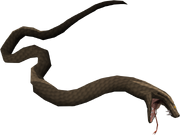 By using a knife on a dead swamp snake, the player can obtain 2-5 swamp snake hides. These hides differ in colouring from the Snake hides obtained from Bush snakes but like bush snake hides can be tanned to make Snakeskin, used for Snakeskin armour.
They hit fairly hard with both melee and magic, so Protection prayers are recommended.
They don't easily switch targets, even if you attack them, and will often need to be killed as fast as possible if one targets a weak follower, otherwise it will make your follower use a lot of food or potentially force the follower to flee.
Swamp snakes have some inaccurate features real snakes do not have. For example, swamp snakes move with their head held up, whereas real snakes move with their head on the ground and only raise their heads when threatening attackers.
Swamp snakes are brown while the snake hides are greenish with yellow spots.