Swamp lizard
Discuss

0
22,497pages
on this wiki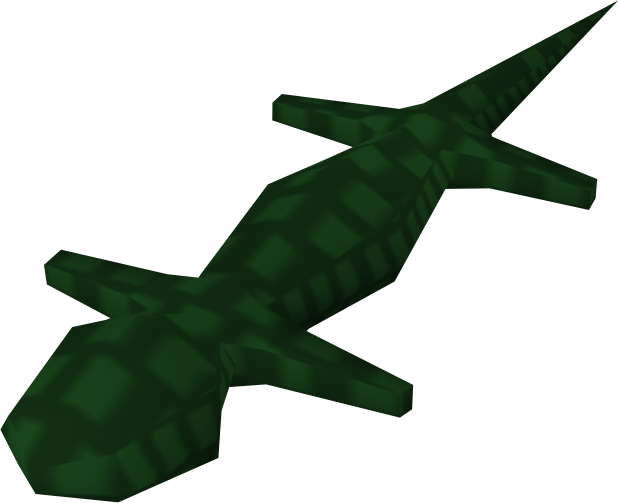 The Swamp lizard is a versatile, two handed weapon that facilitates the training of not only the Ranged skill, but also Magic and Strength. As such it requires Level 30 in Attack, Ranged, and Magic to wield. To be operated, the swamp lizard requires its requisite fuel, guam tar.
Even though the swamp lizard is the weakest of the salamander class of weapon, it is the most costly salamander because it is the tertiary ingredient used in making swamp titan pouches. As such, it has become a popular item for Hunters.
With 29 Hunter Swamp lizards may be obtained through use of net traps, buying them from other players, or by buying them from the Grand Exchange.
Swamp lizards can be hunted south of Canifis in Morytania. Many medium levelled hunters hunt swamp lizards for money. Players should watch out for Ghasts while hunting Swamp lizards. Many players hunt swamp lizards because of the constant demand, therefore guaranteeing them a good price. If constantly hunting with two nets, the average amount of cash earned per hour is 160,000 coins. This will increase with 3 nets at a time.The amount of money earned per hour is also increased, when a familiar is used with the ancient magic spellbook. Using the kharyll teleport to teleport to canifis for fast banking.
The swamp lizard will not appear under the player's gravestone if he/she dies. If held in a beast of burden when the beast is dismissed, they will appear on the ground.
Swamp lizard can be used as a melee, Ranged, or Magic weapon. This proves to be effective in PvP. As they will not know which attack style you will switch to next, you can prey on their weaknesses. This is at the cost of some power, and unreplaceable ammo.
When using a swamp lizard set to give strength experience, you gain 0.4x the experience for the amount that you hit.
When using a swamp lizard set to give ranged experience, you gain 0.4x the experience for the amount that you hit.
When using a swamp lizard set to give magic experience, you gain 0.2x the experience for the amount that you hit.
Players may receive swamp lizards from opening a box of summoning ingredients, a possible reward from the Familiarisation Distraction and Diversion.
Combat Stats

| Class | Slot |
| --- | --- |
| Unknown edit | |

Weapons
Main
Off
Damage
-
-
Accuracy
-
-
Type
-
-
Attributes
Armour rating

0

Life bonus

+0

Prayer bonus

0

Critical bonuses

0%

0%

0%

Compare item

A player wielding a swamp lizard

[view] • [talk]
Combat Styles
Template:CombatStyles Salamander
Trivia
The attack speed of the swamp lizard when using the flare (Ranged) attack style is 6, which is similar in concept to the rapid style of most ranged weapons.
It is currently possible to use this item on the melee setting to attack monsters that could not previously be attacked with a melee-style attack, for instance Aviansies and even Kree'ara in the God Wars Dungeon.
It is the only salamander without the word "salamander" in their name.
It has been reported that while doing the Knight Waves Training Grounds mini-quest (unlocked upon completion King's Ransom

), the salamanders do not count as a melee weapon, even while on the melee setting.