The Swamp Boat is a seemingly deserted rowboat found at the world map point marked "The Hollows", in Mort Myre Swamp. After the Nature Spirit quest, it provides a free ride to the town of Mort'ton. After In Search of the Myreque, the reverse trip may be made. It is one of the quickest methods to get to Burgh de Rott.
The boat can be accessed with the nearby fairy ring using the code BKR or by running from the Canifis lodestone.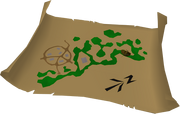 Ad blocker interference detected!
Wikia is a free-to-use site that makes money from advertising. We have a modified experience for viewers using ad blockers

Wikia is not accessible if you've made further modifications. Remove the custom ad blocker rule(s) and the page will load as expected.