Superheat Item
Discuss

26
22,528pages
on this wiki

Superheat Item is a non-combat Magic spell used to smelt ore without a furnace. It can be used by both free and member players. While wielding a fire, lava or steam staff, it takes one nature rune per cast. Without any of the aforementioned staves, it takes four fire runes, and a nature rune. Casting Superheat Item creates only one bar, and cannot be cast upon noted ores. The ore amount required is the same as if you were smelting the bar in a furnace.
The same Smithing level is required to superheat ore as the level required when smelting in a furnace. For example, your Smithing level must be 50 if you wish to superheat the ore for a mithril bar, and to superheat ore for a rune bar, your Smithing level must be 85.
53 XP is rewarded to you in the Magic skill, and the normal Smithing experience is rewarded as if you were smithing the bar in a furnace.
Smelting a bar that requires coal is a little different, for you cannot click on the coal itself, but instead you must click on the primary ore for the bar that you wish to create. For example, to smelt a mithril bar, you must click on a mithril ore in your inventory in order to superheat a mithril bar.
Furthermore Superheat Item guarantees a one-hundred percent success when smelting iron ore into an iron bar, whereas when smelting with a furnace only yields a fifty-to-eighty percent success rate.
Superheat Item cannot be used to make jewellery or cannonballs, but does allow one to create gold bars as well as silver bars and any other metal bar. Please note that to get the full 56.2 Smithing experience per gold ore you must be wearing goldsmithing gauntlets.
Attempting to cast Superheat item on a non-ore object will result in the message You need to cast superheat item on ore.
Casting at mines
Edit
Superheat item is sometimes used when mining coal and either iron, mithril, or adamantite. Superheat item can free up inventory space by using up coal to create bars. Eventually, a near-full inventory of bars can be banked.
Players also sometimes mine gold at the Living Rock Caverns and superheat it while mining.
It is argued that it is most beneficial with iron as it gives 100% success (instead of 50%-80%), so this means fewer mining/bank/furnace trips. See this article.
Other factors to be considered for any ore is weight and running. The bars weigh slightly less than the ore, so you can run for longer. But you can carry 2 fewer bars to the bank (fire/nature rune(s)). This is mitigated to 1 fewer if the player weilds a Staff of fire, assuming the player carries their pick in their inventory in both cases.
If you plan to mine the coal as well as the metal that goes into the bars, and your mining site has both coal and the relevant metal, the timesavings could be considerable. An almost full inventory of bars could be made in one trip rather than requiring one trip for an inventory of ore and several loads more for the coal to smelt it with.
Another possibility is to cast at the Coal Trucks. Example using mithril: Instead of 5 to 7 trips to empty the coal trucks in the Seer's Village Bank, you can take 22 mithril ore, nature runes and an equipped fire staff or better and leave 4 slots open, plus the space for your pickaxe. Repeatedly fill the slots from the coal trucks and cast Superheat Item. In this way only two trips to the bank are required for mithril.
Casting at a bank
Edit
Superheat item can be useful to cast at a bank to train Magic and Smithing. Ores are repeatedly withdrawn, superheated, then the bars banked.
Superheat item can be cast 1 per 2 game ticks (1.2 seconds), which is much faster than High Level Alchemy, which takes 5 game ticks (3.0 seconds) per cast. Although High Level Alchemy gives more Magic experience per cast, it is possible to gain more Magic experience per hour superheating iron or gold than by high alching.
Superheating at a bank, it is possible to use Superheat Item to smelt approximately 2500 iron bars per hour, 2500 gold bars per hour, 1600 mithril bars per hour, 1300 adamant bars per hour, or 1200 Rune bars per hour. 2500 gold bars per hour would be 132k magic experience and 56k smithing experience(140K if wearing gauntlets). Rates are subject to change from person to person.
While at a bank, a coal bag may prove useful as has a right click option inside the bank interface called "fill" which places all the coal in one's inventory into the coal bag.
Some players consider superheating at a bank to be too expensive due to the cost of the nature runes, while other players consider the cost to be worth the fast experience in two skills. However the need to stay at a bank to superheat may attract players to cast High Level Alchemy.
There is a method for superheating mithril that can speed up your superheating greatly but is unknown to many players.
This method is to position your nature runes in your first inventory space and two random items in the bottom right corner, this can also be coal. Go to your standard Spellbook and scroll it downwards so the Superheat Item spell is about the height of the second highest row of spaces in your inventory. With your staff of fire already equipped go to a single click bank, for example the one in the castle wars area, and withdraw 5 Mithril ore and fill the rest with Coal. With this method you'll use very few clicks. If you place your cursor in the bottom left corner of your Superheat Item spell icon you don't even have to move your mouse. This method can also be used with a coal bag and only one placeholder.
Costs of making bars
Edit
See also:Superheat Item Calculator
The data in this table is based on the current Grand Exchange prices. It is accurate assuming all the ore and nature runes are bought from the Grand Exchange and the bar is sold afterwards. However, profit can be made by several ores if you mine them yourself, make bank runs, and then superheat all of them at once at the GE. That way you can sell the bars as you go if you choose and use part of the money to buy new nature runes (you should already have a staff of fire equipped).
To reduce the cost per XP for both smithing and magic while using gold, one may consider crafting the gold bars into gold bracelets. Not only does this reduce the cost of superheating gold significantly, but one also receives a fair chunk of crafting experience, especially if superheating in low amounts.
Type of bar
Material cost
Profit
Profit / Magic xp
Profit / Smithing xp
Bronze
 

216

 

-62

 

-1.17

 

-9.92

Iron
 

295

 

-85

 

-1.6

 

-6.8

Steel
 

839

 

-92

 

-1.74

 

-5.26

Silver
 

222

 

-94

 

-1.77

 

-4.18

Gold
 

465

 

-327

 

-6.17

 

-14.53

Gold
(with gauntlets)
 

465

 

-327

 

-6.17

 

-5.82

Mithril
 

1,522

 

-30

 

-0.57

 

-1

Adamant
 

3,203

 

39

 

0.74

 

1.04

Rune
 

12,749

 

257

 

4.85

 

5.14
Recommendations
Edit
Arrange your inventory so that the ore is in the same spot as the Superheat Item spell, meaning very little mouse movement is needed. With the newer evolution of combat, it would be a lot easier to implement the use of the action bar to cast this spell. To do this, you would have to drag the superheat icon from your ability book onto your action bar, and then assign a hotkey to increase casts per hour. Mousekeys are also a great option alone or combined with the use of the action bar.
Don't forget to wield your fire staff and leave a spot for your nature runes. You might want to turn off Miscellaneous Spells from being shown, as this will remove High and Low Alchemy (which takes the same runes to perform) from being shown and thus removing the risk of misclicking.
Use a quiet bank (not many people running around) as this decreases the load on the Java engine. This results in fewer errors.
For adamant bars with a coal bag, place your nature runes and coal bag in the first 2 slots, withdraw seven adamant ores, and fill the bag/rest of your inventory with coal. Set up your spellbook as shown below.
For steel bars, place your nature runes as shown, and use the 'withdraw x' function and take 9 out - setting the default for 'withdraw x' to 9, meaning you can simply click 'Withdraw 9' from then on. After taking 9 iron ore, withdraw all coal to fill the rest of your inventory with coal. Then set up your spellbook as shown in the image.
It is advisable to click on the bank booth when banking, because that allows banking in one click.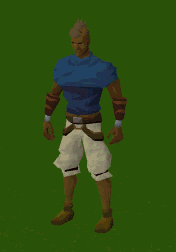 A graphical glitch may occur when using this spell multiple times in a row or if you cast it again before you have finished the first cast in which the animation occurs, without the player moving their arms. This glitch is prevalent in many other manually operated, repeatable spells including High level alchemy and jewellery enchants.
The name Superheat Item is a misnomer because in physics, superheating is the phenomenon in which a liquid is heated to a temperature higher than its boiling point, without boiling. Technically smelting an ore into a refined form does not superheat the item.
When you cast Superheat Item on iron ore while you have two coal in your inventory, it will only produce a steel bar, NOT an iron bar. However, if you only have an iron ore in your inventory, it will automatically produce an Iron bar.
One can (almost) double the amount of bars made per inventory by using the coal bag (a reward from Dungeoneering bought for 4,000 tokens at Daemonheim).
Casting the spell while mining will not interrupt the process of mining.
Players can take advantage of this spell to turn their ores into bars faster by casting it while smelting them at a furnace at the same time. Not recommended with bars above steel because of the inability to hold many supplies. Note: this no longer works, as it interrupts the smelting process, thus negating any benefit.
Players who have earned the Explorer's ring 4 can use this spell for free 27 times each day.
If one has any type of Smelting urn in one's inventory while Superheating, it will fill up just as it would if the ores were smelted in a furnace.
Standard spells

Bones to Bananas • Low Level Alchemy • Superheat Item • High Level Alchemy • Bones to Peaches

Lunar spells

Bake Pie • Cure Plant • Humidify • Repair Rune Pouch • Superglass Make • Spiritualise Food • String Jewellery • Make Leather • Fertile Soil • Plank Make • Tune Bane Ore