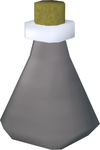 A super fishing explosive can be made by mixing Guam and Rubium in a vial of water, giving 55 Herblore experience. It requires level 31 Herblore and the completion of Kennith's Concerns.
The difference between this explosive and the Fishing Explosives sold from various Slayer Masters, is that they cause 150 damage to the Mogre as it becomes lured.
Super fishing explosive
-
55 XP
-
-
Requirements
Herblore level
31
Members only
Yes
Materials
Item
Quantity
Price
Total
Vial of water
1
60
60
Clean guam
1
182
182
Rubium
1
N/A
-
Total price
242
Disassembly
Edit
Even though it is held in a vial, when examined it states "The jar is shaking violently!".
Unfinished potions
Combat potions
Recovery potions
Cures and antipoisons
Skill potions
Weapon poisons
Quests
Minigames
Miscellaneous
Ad blocker interference detected!
Wikia is a free-to-use site that makes money from advertising. We have a modified experience for viewers using ad blockers

Wikia is not accessible if you've made further modifications. Remove the custom ad blocker rule(s) and the page will load as expected.