Super dominion medallion
Discuss

4
22,527pages
on this wiki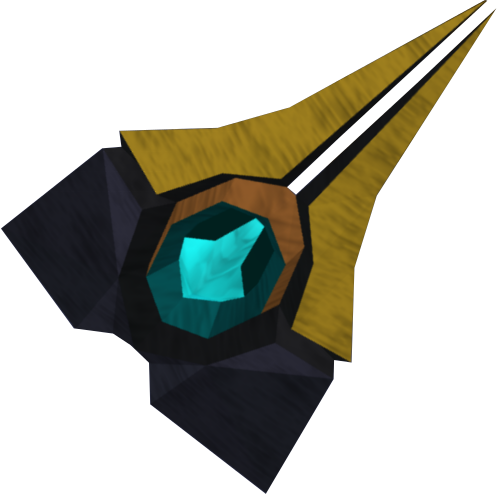 The super dominion medallion is an upgraded version of the Dominion medallion that is unlocked by completing 20 waves in Endurance mode in the Dominion Tower.
Wearing the medallion will also give a boost in Attack, Strength, Defence, Ranged, and Magic for as long as it's worn inside the tower. The size of the boost is dependent on your levels, with level 99 giving a +8 boost roughly once a minute, maxing at 107. This is often used in conjunction with Saradomin brews to reduce the necessity of stat restoring potions.
This medallion provides three teleports a day to the Dominion Tower and recharges daily.
Currently, removing the super dominion medallion will also remove any stat boosts, even those granted by other items or sources, and even outside the Dominion Tower. This appears to be a glitch. If you upgrade the dominion medallion while equipped, the medallion will sometimes be equipped in the head slot. This can be fixed by re-equipping it.
Combat Stats

| Class | Slot |
| --- | --- |
| None | |

Weapons
Main
Off
Damage
-
-
Accuracy
-
-
Type
-
-
Attributes
Armour rating

0

Life bonus

+0

Prayer bonus

0

Critical bonuses

3.5%

3.5%

3.5%

Compare item

A player wearing a super dominion medallion

[view] • [talk]
Bosses

Class A

Nomad • Pest Queen • Decaying avatar • Eruni • Ayuni • Leeuni • Dagannoth Mother (Blood Runs Deep) • Zenevivia

Class B

The Untouchable • Damis • Fareed • Kamil • Dessous • The Everlasting • The Illusive • Dagannoth sentinel • Karamel • Gelatinnoth Mother • Nezikchened

Class C

Balance Elemental • Jungle demon • Arrav • Ice demon • The Inadequacy • A Doubt • Giant Roc

Class D

Arrg • Barrelchest • Chronozon • Evil Chicken • Flambeed • Agrith-Na-Na • Dessourt • Giant scarab

Class E

Bouncer • Koschei the deathless • Arzinian Avatar • Black Knight Titan • General Khazard • Black Knight guardian

Class F

Dad • Dramen Tree Spirit • Agrith Naar • Dagannoth mother (Horror from the Deep) • TokTz-Ket-Dill • Black golem • Grey golem • White golem

Class G

Treus Dayth • Elvarg • Culinaromancer • Tumeken's shadow • The Kendal • The Draugen

Class H

Tarn Razorlor • Sigmund • Melzar the Mad • Count Draynor • Delrith • Solus Dellagar

Miscellaneous

Sunfreet
Power-ups

| | |
| --- | --- |
| Weapons | |
| Bombs | |
| Dom potions | Dom super restore • Dom saradomin brew • Dom super antipoison • Dom super prayer |
| Other | |

Gloves
Mines
Miscellaneous

Xp book • A journal page • Dominion journal • Dreadnip • Dominion marker • Dominion medallion • Super dominion medallion
Head slot

Ram skull helm (e) • Witchdoctor mask • Icicle crown • Sunbeam crown •Wicked hood • Completionist hood • Mask of Broken Fingers • Helm of the Dead Hand • Mask of Stone • Helm of Petrification • Mask of Reflection • Helm of Little Kings • Mask of the Kura • Helm of the Kuraski • Mask of the Abyss • Helm of Warping

Cape slot
Neck slot

Desert amulet 2 3 4 • Games necklace • Digsite pendant • Skills necklace • Amulet of glory (t) Camulet • Cramulet • Amulet of nature • Drakan's medallion • Dominion medallion Super • Seal of passage • Remora's necklace

Mainhand slot

Pharaoh's sceptre • Sceptre of the gods • Skull sceptre • Broomstick • Clan vexillum

Offhand slot

The Book of Char

Leg slot
Hands slot
Ring slot

Explorer's ring 3 4 • Ring of duelling • Ring of Life • Ring of wealth • Ring of kinship • Ferocious ring • Ring of slaying • Jennica's ring • TokKul-Zo • Sixth-Age circuit