Super Saradomin brew flask
Discuss

4
24,369pages
on this wiki
Super Saradomin brew flask
Release date
20 May 2013 (Update)
Members?
Yes
Quest item?
No
Tradeable?
Yes
Equipable?
No
Stackable?
No
High Alch
Unknown edit
Low Alch
Unknown edit
Destroy
Drop
Store price
Not sold
Exchange price

48,586

coins (info)
Buy limit
1,000
Examine
X doses of super Saradomin brew in a flask.
Weight
0 kg
[view]
•
[talk]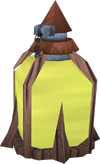 A Super Saradomin brew is an enhanced version of the normal Saradomin brew, healing 800 lifepoints per dose instead of 500. It is made by using Super Saradomin brew on a potion flask.
The Super Saradomin brew flask heals a total of 4800 lifepoints, which is considerably more than any single-bite food like rocktail soup or rocktails. It is the best non-stackable food in terms of life points per inventory slot. Therefore, it is perhaps the most expensive consumable item.
The flask seems to develop a wooden frame when filled with Super Saradomin brew.
Grapes
Wines

Wine of Zamorak (unfermented) • Wine of Saradomin (unfermented) • Wine of Guthix (unfermented)

Potions
Flasks

Zamorak brew flask • Saradomin brew flask • Guthix rest flask

Super potions

Super Zamorak brew • Super Saradomin brew • Super Guthix rest

Super flasks

Super Zamorak brew flask • Super Saradomin brew flask • Super Guthix brew flask
Unfinished potions

Coconut milk • Guam • Rogue's purse • Marrentill • Tarromin • Harralander • Ranarr • Toadflax • Spirit weed • Magic essence • Irit • Wergali • Avantoe • Kwuarm • Snapdragon • Cadantine • Lantadyme • Antipoison+ • Dwarf weed • Weapon poison+ • Torstol • Antipoison++ • Weapon poison++ • Fellstalk

Combat potions

Attack (mix) • Strength (mix) • Defence (mix) • Magic (mix) • Ranging (mix) • Combat (mix) • Super attack (mix) • Super strength (mix) • Magic essence (mix) • Super defence (mix) • Antifire (mix) • Super ranging (mix) • Super magic (mix) • Zamorak brew (mix) • Saradomin brew • Super antifire • Extreme attack • Extreme strength • Extreme defence • Extreme magic • Extreme ranging • Super Guthix rest • Super Saradomin brew • Super Zamorak brew • Overload

Recovery potions

Stat restore (mix) • Energy (mix) • Summoning • Prayer (mix) • Super energy (mix) • Super restore (mix) • Sanfew serum • Adrenaline potion • Super prayer • Prayer renewal

Cures and antipoisons

Relicym's balm (mix) • Antipoison (mix) • Super antipoison (mix) • Yeti curse cure • Sanfew serum • Antipoison+ (mix) • Antipoison++

Skill potions

Agility (mix) • Fishing (mix) • Hunter (mix) • Fletching • Crafting

Unfinished Juju potions
Juju potions

Juju hunter potion • Scentless potion • Juju farming potion • Juju cooking potion • Juju fishing potion • Juju woodcutting potion • Juju mining potion • Saradomin's blessing • Guthix's gift • Zamorak's favour

Weapon poisons
Others

Bravery potion • Cadava potion • Goblin potion • Guthix balance (unf) • Guthix balance • Guthix rest • Potion • Mixture - step 1 • Mixture - step 2 • Shrink-me-quick • Super fishing explosive • Troll potion • 'voice of doom' potion • Olive oil • Sacred oil • Serum 207 • Serum 208 • Yeti curse cure

Tars

Guam • Marrentill • Tarromin • Harralander

Flasks

Agility • Antifire • Antipoison • Antipoison+ • Antipoison++ • Attack • Crafting • Defence • Energy • Extreme attack • Extreme defence • Extreme magic • Extreme ranging • Extreme strength • Fishing • Fletching • Guthix's gift • Guthix balance • Hunter • Juju cooking • Juju farming • Juju fishing • Juju hunter • Juju mining • Juju woodcutting • Magic essence • Magic • Overload • Prayer • Prayer renewal • Ranging • Adrenaline • Relicym's balm • Restore • Sanfew serum • Saradomin's blessing • Saradomin brew • Scentless potion • Serum 207 • Serum 208 • Summoning • Super antifire • Super antipoison • Super attack • Super defence • Super energy • Super magic • Super prayer • Super ranging • Super restore • Super strength • Weapon poison • Weapon poison+ • Weapon poison++ • Zamorak's favour • Zamorak brew • Super Guthix • Super Saradomin • Super Zamorak

Dungeoneering potions

| | |
| --- | --- |
| Weak potions | Magic • Ranged • Melee • Defence • Stat restore • Cure • Rejuvenation • Weapon poison • Gatherer's • Artisan's • Naturalist's • Survivalist's |
| Normal potions | Magic • Ranged • Melee • Defence • Stat restore • Cure • Rejuvenation • Weapon poison • Gatherer's • Artisan's • Naturalist's • Survivalist's |
| Strong potions | Magic • Ranged • Melee • Defence • Stat restore • Cure • Rejuvenation • Weapon poison • Gatherer's • Artisan's • Naturalist's • Survivalist's |