Combat pure/Summoning tank
Discuss

34
22,527pages
on this wiki
A Summoning tank is a highly armoured player who utilises only Summoning in combat. The highest combat level a typical Summoning tank can achieve is 62 (shown below).
Combat level
99
99
1
99
1
200
1
200
1
200
1
200
Summoning Tanks are a relatively new type of pure specially designed for the purpose of player killing (AKA pking) with Summoning. A Summoning Tank utilises certain familiar special moves and is also equipped with medium to high level defence and constitution. Summoning Tanks have very low death rates in the PKing world, due to a low combat nature (20-42 combat commonly) but with high-level Defence. This poses a huge challenge for other types of combat pures, whose combat skills at comparable levels are somewhat premature. The biggest downside is they are extremely expensive to create. The cost of getting charms for the best defence familiar (95 sum) is roughly 520m.
Stated before, Summoning Tanks have a nature of having low combat levels. Due to this, the variations of these pures are not significant. The classifications are fragmented into two classes: high level tanks and low level tanks. High level Summoning Tanks are regarded as typically having combat levels of roughly 34-51 or 62, with Summoning levels ranging 60-99 and Defence levels 60-78 or 99. Low level Summoning Tanks are vastly more common and have typically 22-33 combat with Summoning levels of 30-60 and Defence usually at either 40 or 60. Though this is the basic classification of a common Summoning Tank, the following is a list of exceptions to the basic principle:
Combat level
75
10
1
74
1
151
1
151
1
151
1
151
Summoning tanks that choose to have prayer are higher combat than those without and will max out at combat level 74. This is still considered low combat and ties with other maxed combat pures.
Possibly the biggest advantage of having prayer is Protect from magic, as magic spells have potential over melee armour. Protect from magic will reduce the amount of damage you receive from magic attacks.
The quests Spirit of Summer and Summer's End can be completed if Prayer level requirements are met. As a reward the player will receive Summoning experience and the ability to wear Spirit shields.
Morytania may be unlocked after completing Priest in Peril, which has a Prayer requirement. This is useful to increase the chances of obtaining more points during Penguin Hide and Seek.
Low Level
Edit
Many summon tanks try to get as low combat for pking in the wilderness with high summoning. Summon tanks at combat level 20+10 can be seen occasionally in the wilderness.
Quests: Below is a list of all the quests that may help to begin Summoning and are able to be completed with relatively low requirements:
Quests rewarding experience but requires Prayer to complete:
Familiars
Edit
Familiars affiliated with the defensive attack style are mostly used to prevent levelling other combat skills. The strength of a Familiar (including special attack) is somewhat based on a Summoning tank's combat skill which matches the familiar's attack style, with the exception of Magic-based familiars. Though the Steel titan is a renowned opponent in the Wilderness, for example, the familiar will be intensely handicapped as a Summoning tank generally has a low Ranged level. Instead, it is best for the Summoning tank to use a familiar that posses a Defensive attack style because of the Defence level which he/she has. The ideal familiar for this would be the iron titan.
The familiars listed in the chart below ranges from the rather subtle granite crab to the regal Steel titan.
Please note that special scroll attacks from any familiar will not give the player combat experience other than Summoning, regardless of the familiar's attack style.
Level
Familiar
Image
Attack Style
Time (minutes)
Spec. Pt. cost
Combat level
Life Points
Immune to poison?
Special Move, Further Note
Max Dmg.
16
Granite crab
Defence
18
12
26
390
No
Stony Shell - Temporarily boosts defence by +4
40
22
Spirit Tz-Kih
Magic
18
6
36
630
Yes
Fireball Assault - Attacks up to 7 nearby players with fiery projectiles.
50 (70 with special)
25
Spirit kalphite
Defence
22
6
39
770
Yes
Sandstorm - Attacks up to 5 nearby players with sand vortexes.
50 (20 with special)
31
Vampyre bat
Controlled
33
4
44
1050
No
Vampyre Touch - Inflicts a target with a pulses of sound. May also heal the player by 20.
50 (120 with special)
36
Bronze minotaur
Defence
30
8
50
1330
Yes
Bronze Bull Rush - Casts an orb of bronze alloy at a target. Temporarily stuns target for a few seconds.
60 (40 with special)
43
Cockatrice variants
Magic
36
12
64
1730
Yes
Petrifying Gaze - Invokes damage and -3 stat drain. Specific cockatrice variants determine which stat will be temporarily depleted.
100
46
Iron minotaur
Defence
37
6
70
1930
Yes
Iron Bull Rush - Casts an orb of iron alloy at opponent. May also temporarily stun target.
80 (60 with special)
56
Steel minotaur
Defence
46
6
90
2600
Yes
Steel Bull Rush - Casts an orb of steel alloy at opponent. May also temporarily stun target.
100 (80 with special)
66
Mithril minotaur
Defence
55
6
112
3400
Yes
Mithril Bull Rush - Spawns rugged, mithril orbs at opponent. May also temporarily stun target.
120 (130 with special)
74
Granite lobster
Defence
47
6
129
4180
No
Crushing Claw - Sends twin projectiles at opponent. May also decrease opponent's defence level by 5.
140
76
Adamant minotaur
Defence
66
6
133
4410
Yes
Adamant Bull Rush - Invokes a sharp, adamantite sphere at opponent. May also temporarily stun target.

An incredibly common familiar to see in PvP.

140 (160 with special)
86
Rune minotaur
Defence
151
6
154
5700
Yes
Rune Bull Rush - Casts an orb of Rune alloy at target. May also temporarily stun opponent.
160 (190 with special)
95
Iron titan
Defence
60
12
220
6940
Yes
Iron Within - Inflicts 3 melee-based attacks simultaneously during the next attack (possible 230x230x230 damage respectively).

The Iron titan gives an invisible boost of 10% to crush, stab and slash defences.

230 (690 with special)
99
Steel titan
Ranged
64
12
230
7500
Yes
Steel of Legends - Enables 4 very quick ranged or melee attacks (depending on distance) simultaneously during the next attack (possible 240x240x240x240 damage respectively).
240 (960 with special)
Equipment
Edit
Just as Familiars are vital in Player killing, proper equipment is necessary to ensure safety and efficiency for a Summoning tank. This includes armour, Summoning scrolls/pouches, and food. A Dragonfire Shield for its powerful Defence and special attack is a commonly used shield for higher levelled tanks.Compared to other types of combat pures, a Summoning tank has the tendency to require large amounts of money for much of the needed equipment. Because of this, many Summoning tanks are skilled in some form of money-making (aside from player killing). Please see the Money making guide, the Skill Training Guides or the Advanced Trading guide if you are having difficulty acquiring money.
It is recommended to start a Summoning tank with the minimum of 40 Defence for decent protection. Although this is up to the tanks preference, as summoning tanks are more effective with low defence and high summoning. As the Rune platebody is inaccessible due to the Dragon Slayer quest requirement, a good substitute would be Elite Black Armour or Sacred Clay armour. Remember granite armour requires 50 strength to wear. Another choice would include a Fighter Torso, which may be obtained from the Barbarian Assault minigame, but acquiring 375 honour points in every role and killing the Penance queen may be difficult.
Many higher levelled Summoning tanks have obtained 60 Defence to equip the Dragon equipment. Dragon armour is not only noticeably stronger than rune, but many Summoning tanks agree that they add sophistication to the wearer. Only armours commonly used by Summoning Tanks are listed in the charts below:
For Summoning tanks with high Defence (70+) Barrows and Bandos Equipment is the next upgrade from Dragon armour. As they are indeed very strong, the Barrows equipment slowly degrade as the wearer engages in combat. Of the Barrows melee armours, Verac's equipment is notably selected as they have better magic defences (although significantly less crush, stab, slash, range and summoning bonus) than Guthans, Dharok, and Torag sets. 75 Defence allows for equipping Dragonfire Shields, for the shields themselves makes a Summoning tank potentially lethal with or without a familiar. The shield absorbs dragonbreath, which stays in the shield and gives it charges. Each dragonbreath attack gives it one charge, up to a maximum number of 50. Each charge increases the shield's defence against stab, slash, crush, range and summoning attacks by +1. When the shield is worn, players can also release charges of dragonbreath by operating it. The shield will then fire a deadly blast of fiery energy at the opponent, which hits up to 250 damage (giving magic experience), but lowers the stats of the shield by 1 for every charge used after it's fully charged. The Dragonfire shield also has a 2 minute cool-down between each use. By using the armour repair stand in a player-owned house, you can reduce the cost of repairing barrows by up to 50%.
For a summoning tank your choice of weaponry may not be your most important decision (Due to the fact that your summoning familiar will be doing most of the damage), but there are a few weapons that come in handy.
Maple Blackjack(d) - gives a +24 crush defence bonus, and has a random chance to stun your opponent upon a successful hit.
Red Topaz Machete - gives +16 slash attack bonus.
Darklight - can prove useful for it's special attack.
Talisman staff - only requires 50 runecrafting to obtain and gives a +33 strength bonus.
Bone dagger (p++) is a common weapon for summoning tanks to use. An Iron dagger (p++) can be a good substitute, for it has the same stats as a Bone Dagger (p++). The only drawback is that the iron dagger (p++) has no special attack.
Luckily, there are many fun methods to train Summoning, ranging from Thieving, to Lootsharing, and even spying on sinister penguins! When it comes to obtaining charms, the Crimson charm is vastly collected. The reason for this is for the fact that using Crimson charms gives moderately fast training and are easier to acquire than that of Blue charms. The amount of Crimson charms needed for 99 is also significantly less than that of Green and Gold charms, which requires 80k-100k charms.
The following familiars require a Crimson charm to make their pouch:
Soul Wars (Defence)
Edit
Despite what some players believe, Soul Wars gives a very low rate of charms. It is recommended instead to use Soul wars to train Defence and Constitution. For any Summoning tank, Soul Wars is the fastest training method for Defence and Constitution.
Lootsharing (LootShare) in multi-combat areas is the fastest way to acquire charms—specifically Crimson charms. In this method, a party of one or two Summoning tanks accompany a high-level player to share drops from monsters which the high-level player slays. Monsters that frequently drop Crimson charms are common targets for small parties. Lootsharing from Slayer monsters requires all members of a party to have the correct Slayer level. The most common monsters used are as follows: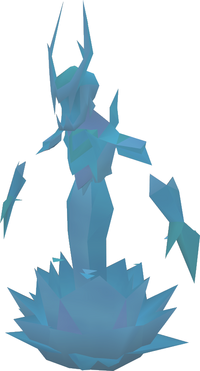 For efficiency, the party's high-levelled player would normally have the Ancient magicks spellbook activated to cast the Ice spells at multiple targets, namely Rock lobsters and Nechryaels. As this does acquire much more charms than other conventional means (about 200 crimson charms, 100 gold charms, 50 green charms, 9 blue charms per 670 ice bursts and about 1.5x as much for barrage), using these spells can be expensive and would cost at the least 500M GP for around 25k Crimson charms (About the amount of charms needed for 1-95 summoning). Besides actually getting the charms, Tanks still have to pay for the expenses of tertiary ingredients which comes around 140M for 25k crimsons.
Safescrolling
Edit
Due to updates, this method is obsolete.
Using Familiar special attacks on monsters while at a safe distance is known as Safescrolling. Safescrolling is a good way of collecting Gold/Green charms for the Summoning tank receives Summoning experience per cast and can freely use familiars that have an attack style other than Defensive. The Vampyre bat, Barker toad, Cockatrice variants, and the Spirit Tz-Kih are just some of the familiars used for their powerful special attacks. The most common monster for Safescrolling is the Giant rock crab and their high drop rate of Gold charms. The Giant rock crabs' domain in the Chaos Tunnels has many safespots and they themselves are weak to mage-based attacks. Red dragons and Greater Demons are also good alternatives for Green and Crimson charms if money is needed. It is best to determine the amount of scrolls and pouches needed for a single trip, and to then find monsters whose drops also include items that can cover for the cost of purchasing these supplies. Always check the Grand Exchange prices before considering buying the needed items.
Many summoning tanks choose to kill Bork (see for guide) once per day because he gives a 100% drop rate for Summoning charms (7 crimson, 2 green, 5 blue) for those who defeat him. It is recommended to wear a Ring of wealth, as that will increase the reward to 10 crimson, 3 green, and 5 blue charms. Bork also gives 5000 Slayer experience for the first time he has been killed and 250 experience thereafter. Encountering Bork is only possible once the Summoning tank has completed What Lies Below and the Hunt for Surok miniquest.

Green charms are the most common charm looted from the Dorgesh-Kaan Average Chests and Dorgesh-Kaan Rich Chests, which requires 52 and 78 Thieving. Possibly 27 Green charms, 16 Gold charms, 4 Crimson charms and 1 Blue charm can be attained in an hour if a Summoning tank continues looting these chests. Uncut emeralds, Cave goblin wires, and Frog-leather armours are also potential items looted, creating a bit of profit for the Summoning tank as well.
Penguin Hide & Seek
Edit
Most tanks choose to do the Penguin Hide and Seek activity once per week and use the reward on Summoning. Although a tank can usually only spot 6 or possibly 7-8 penguins per week, the xp gained from doing so is considered to be worth the effort because this xp is usually sufficient to gain a fair amount of xp and possibly a level or two at mid-lower Summoning levels. Need to know how much experience you will obtain? Calculate it with the following formula:
25 x (Number of penguin points) x (Level of skill).
Other quests that can help with penguin hide and seek are Cold War and Hunt for Red Raktuber. Completing the Cold War quest will allow you to receive 2 penguin points instead of 1 for certain penguins. Hunt for Red Raktuber will give you the ability to spy on 1 polar bear each week. This polar bear counts as 1 penguin point.
The unofficial world for Penguin Hide & Seek is world 60.
With the new addition of bonfires, it is now easy for any level player to collect charms. When adding logs to a bonfire there is about a 1/100 chance that a fire spirit may appear. Fire spirits give rewards, they commonly give charms (gold, green, crimson, and blue). This is an easy way to get charms without much effort, just make sure you are paying attention to the game, because fire spirits only last for 50 seconds before dissapearing.