The Summer prize token was a possible reward from opening a mystery box, obtainable during the Summer Beach Party from 25 June to 28 June 2015 from either the Summer Raffle Treasure Hunter promotion or from Reyna before the commencement of the 2015 Summer Beach Party.
The rewards which you can choose from are: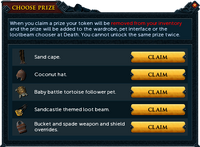 NPCs
Items
Rewards
Interactive scenery
Music
Ad blocker interference detected!
Wikia is a free-to-use site that makes money from advertising. We have a modified experience for viewers using ad blockers

Wikia is not accessible if you've made further modifications. Remove the custom ad blocker rule(s) and the page will load as expected.