Robes of subjugation
Discuss

6
24,274pages
on this wiki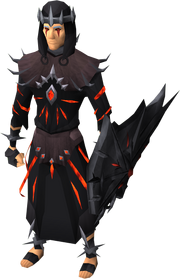 The robes of subjugation are a set of Magic armour that can be obtained in the God Wars Dungeon. They require 70 Magic and 70 Defence to wear. The set consists of a hood, garb, gown, gloves, boots, and ward. The armour is considered to be the mage's equivalent of armadyl and bandos armour for rangers and warriors respectively. When the robes of subjugation are dropped by K'ril, a friend's list wide announcement is given out. As of 30 April 2013, these robes are considered to be a "power armour", and give a 10% bonus to magic damage while giving lower life points and defensive bonuses than Barrows armour.
Subjugation Robes Grand Exchange cost 
Hood of subjugation
 

2,971,091

[view] 
Garb of subjugation
 

7,456,246

[view] 
Gown of subjugation
 

6,716,752

[view] 
Gloves of subjugation
 

2,294,358

[view] 
Boots of subjugation
 

1,189,407

[view] 
Ward of subjugation
 

166,645

[view]
Total
 

20,794,499

coins
[view]
•
[talk]
Equipment Stats
Edit
Not long after Zamorak achieved godhood, he became worried about his followers, which were not loyal to him and were planning to betray him the same way he did with Zaros. Seeing that, he visited Razulei in the Infernal Dimensions and requested the creation of the robes of subjugation, powerful robes imbued with cruelty. After they were created, Zamorak paid Razulei handsomely and gave them to his mages. His mages drew power from the clothes with the objective of overcoming him and were flooded with pain. Desperate to cease it, they drew even more power from the robes, but it only worsened the pain and it eventually killed them.
After Zamorak's banishment, his followers that wished to return him to Gielinor were loyal, so they could use the power of the robes not only without succumbing to pain, but prospering in the name of Zamorak.
The robes of subjugation were originally named the robes of subjection.
The robes of subjugation are currently the highest non-degradable set of magic armor players may use.
The concept art for the robes of subjugation state that, '[the] Slashes of red animate + glow with power in new robes'.
Free-to-play

Wizard robes • Druidic mage robes • Imphide robes • Combat robes • Spider silk robes • Batwing robes

Members

Zamorak robes • Elemental armour • Mind armour • Body armour • First tower robes • Mycelium web armour • Cosmic armour • Fungal armour • Mystic robes • Enchanted robes • Dagon'hai robesNecromancer • Lunar equipment • Splitbark armour • Chaos armour • Sacred clay robes • Skeletal armour • Infinity robesDragonbone • Battle robes • Grifolic armour • Third-age mage armour • Robes of subjugation • Ahrim's set • Ganodermic armour • Virtus armour • Zuriel's equipment • Sea singer's robes • Tectonic armour
Godswords

Armadyl • Bandos • Saradomin • Zamorak

Robes of subjugation
Armadyl armour

Helmet • Chestplate • Chainskirt • Gloves • Boots • Buckler

Bandos armour
Torva armour
Pernix armour
Virtus armour
Ancient ceremonial robes
Frozen key

Frozen key • Armadyl • Bandos • Saradomin • Zamorak

Weapons

Saradomin sword • Zamorakian spear • Armadyl crossbow • Steam battlestaff • Zaryte bow • Virtus wand • Virtus book

Amulets
Books

Armadyl's assault • Zilyana's notes • The glory of general graardor • Nex's followers • Razulei's tale

Soulstones

Armadylean soulstone • Bandosian soulstone • Saradominist soulstone • Zamorakian soulstone