Studded chaps (g)
Discuss

0
22,503pages
on this wiki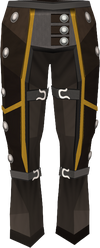 Studded chaps (g) are low-level ranged armour. They are obtained from level 1 Treasure Trails. They give identical bonuses as the untrimmed Studded chaps.
This is also one of the components for making the gold-trimmed leather armour set along with the studded body (g).
This item cannot be made with the Crafting skill. Many so called "non-member pures" who have low stats wear these to show their wealth, as well as impressing low-levels to lure them in death traps, although this is difficult to do anymore. However, it is more likely for those, if they have 40 Ranged and enough money, to wear Green d'hide chaps (g) instead.
The requirements to wield this item are level 20 Defence and 20 Ranged.
Combat Stats

| Class | Slot |
| --- | --- |
| Ranged | |

Weapons
Main
Off
Damage
-
-
Accuracy
-
-
Type
-
-
Attributes
Armour rating

69

Life bonus

+360

Prayer bonus

0

Critical bonuses

0%

0%

0%

Compare item

A player wearing studded armour (g)

[view] • [talk]
Very expensive and rarely used for more than showing off a small fortune.
Headgear

Leather cowl • Focus sight • Coif • Carapace • Snakeskin • Green d'hide • Archer helm • Ranger hat • Robin hood hat • Sacred clay coif • Spined helm • Blue d'hide • Red d'hide • Black d'hide • Blessed d'hide • Royal d'hide • Third-age • Karil's • Armadyl helmet • Morrigan's (corrupt) • Pernix cowl • Death lotus hood (sup)

Body

Leather • Hardleather • Studded(t)(g) • Frog-leather • Carapace • Snakeskin • Green d'hide(t)(g) • Spined • Sacred clay • Blue d'hide(t)(g) • Red d'hide • Black d'hide • Blessed d'hide • Royal d'hide • Third-age • Karil's • Armadyl • Morrigan's (corrupt) • Pernix • Death lotus chestplate (sup)

Legs

Leather • Studded(t)(g) • Frog-leather • Carapace • Snakeskin • Green d'hide(t)(g) • Spined • Sacred clay • Blue d'hide(t)(g) • Red d'hide • Black d'hide • Blessed d'hide • Royal d'hide • Third-age • Karil's • Armadyl • Morrigan's (corrupt) • Pernix • Death lotus chaps (sup)

Shields

Leather shield • Hard leather shield • Studded leather shield • Green d'hide shield • Blue d'hide shield • Red d'hide shield • Black d'hide shield • Dragonfire shield (ranged) • Armadyl buckler • Elysian shield • Eagle-eye shield

Vambraces

Leather gloves • Leather vambraces (spiky) • Hard leather • Studded leather • Carapace • Snakeskin • Green d'hide (spiky) • Spined • Blue d'hide (spiky) • Red d'hide (spiky) • Black d'hide (spiky) • Blessed • Third age • Royal d'hide (spiky) • Armadyl • Mercenary's • Swift • Pernix • Tracking gloves

Footwear

Leather • Hard leather • Studded leather • Frog-leather • Carapace • Snakeskin • Ranger boots • Spined boots • Armadyl boots •Pernix boots • Glaiven boots

Cape

Arrowstorm drape • Ava's attractor • Ava's accumulator • Ava's alerter • Max cape • Completionist cape

Neck

Amulet of accuracy • Amulet of power • Amulet of glory • Amulet of fury • Amulet of ranging • Saradomin's murmur
Trimmed leather armour set
Gold-trimmed leather armour set

Studded body (g) • Studded chaps (g)

Green d'hide trimmed set
Green d'hide gold-trimmed set
Blue d'hide trimmed set
Blue d'hide gold-trimmed set
Green d'hide blessed set
Blue d'hide blessed set

Saradomin body • Saradomin chaps • Saradomin vambraces • Saradomin coif

Red d'hide blessed set

Zamorak body • Zamorak chaps • Zamorak vambraces • Zamorak coif

Dyed silver d'hide blessed set

Armadyl body • Armadyl chaps • Armadyl vambraces • Armadyl coif

Dyed brown d'hide blessed set
Dyed purple d'hide blessed set

Ancient body • Ancient chaps • Ancient vambraces • Ancient coif

Third-age ranger set

Third-age range coif • Third-age range top • Third-age range legs • Third-age vambraces