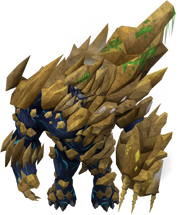 The Strongest monster in RuneScape (based on combat level) is currently tied between Vorago and Yakamaru, both with a combat level of 10,000. Monsters that are not attackable, such as the Ferret of Doom, are not included.
It should be noted that Telos, the Warden's combat level exceeds 10,000 if he is fought at above 800% enrage, and his combat level at the maximum amount of 4000% would be 42,000.
Current strongest monsters
#
Monster
Level
1
Vorago
10,000
Yakamaru
10,000
Image of Yakamaru
10,000
4
Araxxi
3,000
5
Kalphite King
2,500
Araxxor
2,500
7
Beastmaster Durzag
2,000
Telos
2,000
9
Wildywyrm
1,337
10
Nex
1,001
Nomad
1,001
Past record holders
Overall past record holders
Free-to-play past record holders
Quest monster past record holders
Ad blocker interference detected!
Wikia is a free-to-use site that makes money from advertising. We have a modified experience for viewers using ad blockers

Wikia is not accessible if you've made further modifications. Remove the custom ad blocker rule(s) and the page will load as expected.