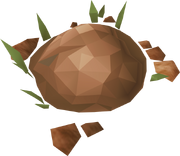 The strange compass is created by combining all four compass pieces from the 2015 RuneScape Road Trip. It leads to a suspicious mound. Upon finding and digging up the treasure, the player finds the Fluffie pet and a large explorer's lamp and the compass crumbles to dust. As with compass clues, the strange compass does not work while on another level or in an instance.
Locations
Edit
The location varies from player to player. Possible locations include:
Ad blocker interference detected!
Wikia is a free-to-use site that makes money from advertising. We have a modified experience for viewers using ad blockers

Wikia is not accessible if you've made further modifications. Remove the custom ad blocker rule(s) and the page will load as expected.