A straight root is an item obtained from chopping the straight jade roots within the Jadinko Lair and then collecting the roots. They can be cut at 83 Woodcutting and yields 161 Woodcutting experience (80.5 for cutting and 80.5 for collecting) per root. It can be used on a fire pit within the lair to create a Hardened straight root, which can then be fletched. 4 straight roots are obtained per straight jade root chopped.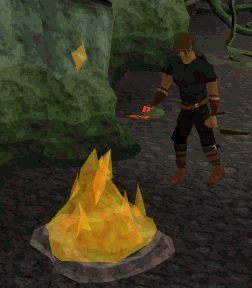 When attempting to chop a 5th root in rapid sequence you can't chop it and get the message: "The root squirms out of the way of your hatchet. You have already chopped 4 other roots that haven't regrown yet."
When burned with the Superheat Form prayer these will give 30 experience per straight root, for a total of 120 experience.
Disassembly
Edit
Ad blocker interference detected!
Wikia is a free-to-use site that makes money from advertising. We have a modified experience for viewers using ad blockers

Wikia is not accessible if you've made further modifications. Remove the custom ad blocker rule(s) and the page will load as expected.