Stores in Varrock
Discuss

0
22,497pages
on this wiki
The Misthalanian capital city of Varrock is a very economically active city, and regularly trades not only with neighboring settlements and nations but also within itself. As a result, many stores, shops, and stalls have been established within Varrock that players may trade with.
Varrock General Store
Edit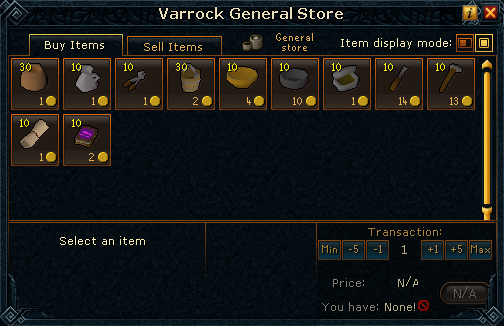 Varrock's general store is one of the most popular stores in the game. New players can buy a Newcomer map which can help them find their way around the free version of RuneScape and help them to start earning money
Players can sell whatever they wish at the store, though mainly low level players sell their items, which are often not wanted by higher level players. It is also hard to sell items to this general store as many people sell their items here, causing the store's inventory limit to be reached very easily.
Varrock Swordshop
Edit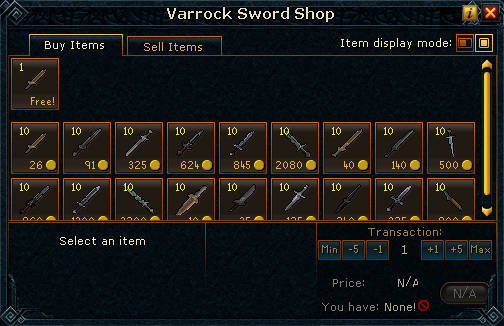 At the southern entrance is a store where players can buy swords. The store sells bronze, iron, steel, black, mithril and adamant daggers, swords and longswords. Along with the Rune Shop in the Champion's Guild, F2P players have access to buy all but two swords without interaction with other players.
Dealga's Scimitar Emporium, a P2P shop selling Dragon scimitars, is also situated within, but is not part of, this store.
Thessalia's Fine Clothes
Edit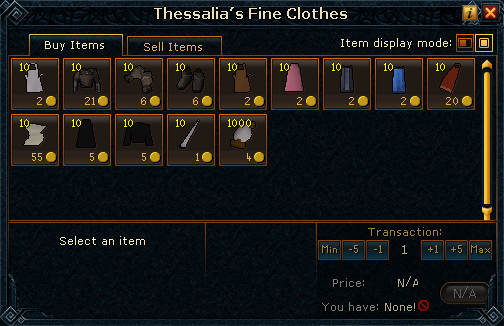 Thessalia's Fine Clothes sells several types of clothes including robes, capes, gloves, and boots. Thessalia will also change a player's default clothing for free. Players who were lucky enough to obtain a scythe when they were dropped, can retrieve it from this store if it is lost. Players can also attain unique outfits award from random events such as the prince outfit from Iffie located in her rocking chair in the store.
Fancy Clothes Store
Edit
There is also a clothing store in the south-eastern part of the city. However, only members can buy items here on member servers. It features heavily in the Hunter skill and it is here that you have furs made into camouflage and other Hunter gear.
Zaff's Superior Staves!
Edit
Near the centre of Varrock is Zaff's Superior Staves!, a store where players can purchase staves for magic.
Zaff sells staves to free-to-play players. What some to believe be Zaff's son Naff sells battlestaves for use in the Crafting skill. Each day he gets a stock of battlestaves that can be sold in limited quantities to each buyer dependant upon which type of Varrock armour he/she has. If the player does not have any of the armour Naff will only sell you 8 battlestaves.
Horvik's Armour Shop
Edit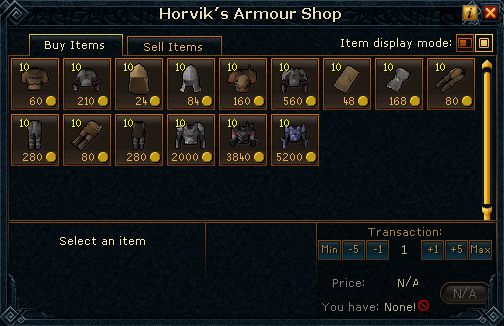 Horvik's Armour Shop is near the centre of Varrock. Here, players can buy platebodies and chainbodies as well as platelegs and some leather armour. Many players also sell their smithed armour here for a profit.
His shop is also unusual because it has an anvil inside it for players to use.
Aubury's Rune Shop
Edit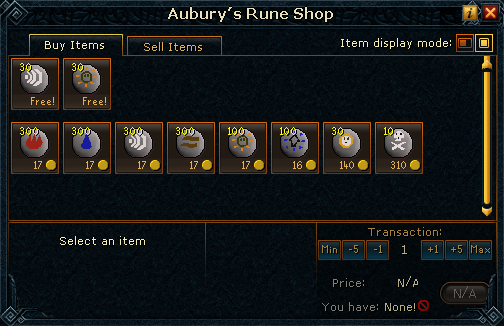 In the south-east corner of Varrock is the Aubury's Rune Shop. Here, players can purchase most types of runes or be teleported to the rune essence. Players must come here and speak to Aubury twice during the Rune Mysteries Quest
Lowe's Archery Emporium
Edit
To the east of Varrock General Store is Lowe's Archery Emporium, a store which sells items designed for players who use the Ranging skill.
Lowe sells all free-to-play types of bows and arrows as well as crossbows and bronze bolts.
Pelter's Veg Stall
Edit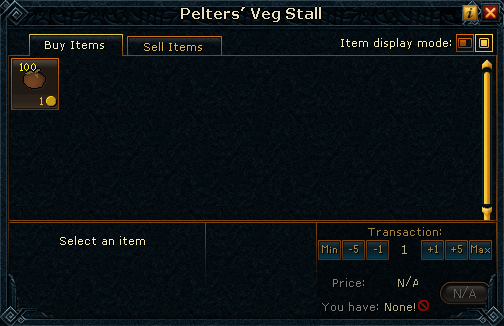 Near Varrock Square is Pelter's Veg Stall. The store is owned by a tramp and does not supply the freshest of vegetables.
He sells Rotten Tomatoes to throw at players in the pillory.
Ye tea Shoppe
Edit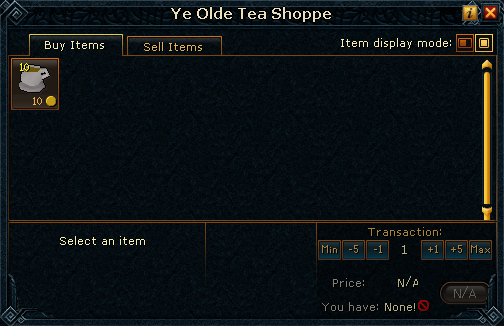 The stall is located in eastern Varrock and is operated by the Tea seller. He sells cups of tea for 10 coins each. Players may steal from it with level 5 Thieving.
Rogue jewellery shop
Edit
The Rogue jewellery shop, in Varrock, is a place to sell unenchanted and strung gold jewellery. It is unlocked as a reward for releasing the rogue from the Rogue's Castle in Deep Wilderness after finishing the Summer's End quest. The rogue only buys unenchanted and strung jewellery, including jewellery with gems and in noted form.
Varrock fur stall
Edit
Baraek Brigson buys and sells furs, most notably both Bear and Grey Wolf furs.
Varrock Herald Stall
Edit
Benny is the owner and sole employee of the Varrock Herald, the city's largest newspaper. Players may purchase a copy of the Varrock Herald from Benny, who owns a newsstand in Varrock Square.
Urist's Crafting Supplies
Edit
Urist Loric is a dwarf that owns a crafting stall in Varrock Square. After players complete From Tiny Acorns, a caper following the Buyers and Cellars quest, Urist sells basic crafting supplies such as moulds and chisels.
Dealga's Scimitar Emporium
Edit
Dealga is an intelligent monkey who operates from the same building as the Varrock Swordshop. Dealga sells dragon scimitars, provided the player has completed the Monkey Madness quest.
Estate Agent
Edit
The estate agent is a salesman that owns a small office in northern Varrock. Although he does not sell any actual items, the estate agent can help players to customize their player-owned house for a fee.
Varrock Tanner
Edit
The relatively new tanner south of the West bank and anvil will tan your hides like any other tanner in Runescape. He does not sell any items, and the release of his store reduced the size of a building next to his, which is two stories high but used to have a balcony on the second floor and a larger first floor.