Stores in Keldagrim
Discuss

7
22,518pages
on this wiki
Keldagrim is the capital of the Dwarven Realm, and as such derives much of its prosperity from trade and commerce. The city of Keldagrim hosts a wide range of shops, and is well-known for its vast assortment of available goods.
This shop sells a mixture of general supplies that should come in handy during adventuring. Its stock is somewhat similar to the general stores in Karamja.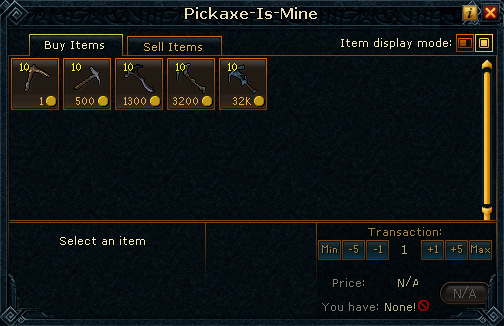 Found on Keldagrim's east side, this store stocks every type of pickaxe, with the exception of iron and dragon. This store is very convenient because it allows players to purchase newer, more effective pickaxes while training mining in the city. Be warned, though; the shopkeeper, Tati, is a little hard of hearing, so try to speak loudly.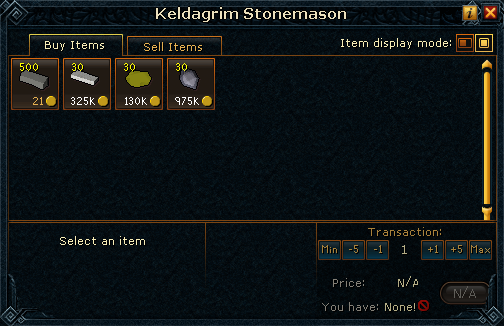 This is the only stonemason currently found within the game. The store is south east of the bar in West Keldagrim. The stock is made up only of mid-to-high-levelled construction materials, ranging from the basic blocks of limestone that surround the city to incredibly rare magic stones. It is possibly the most expensive store in RuneScape, and can empty players' pockets very quickly. There is also a fire inside the stonemason's shop that can be used to prepare most foods.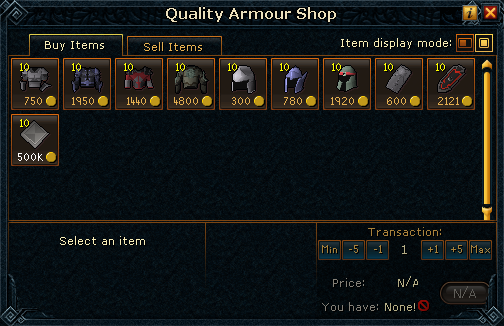 This shop stocks a mixture of medium helmets, shields, and chainbodies. There are not usually any shields in stock, but players sometimes sell shields to the shop for a profit. There is also an anvil in here that can be used to smith, and its close proximity to The Bank of Keldagrim allows for very fast smithing.
This shop sells a mixture of metal ranged and melee weaponry that players of all levels can make use of. It is also noted for being one of the very few stores that stocks the elusive Rune longsword.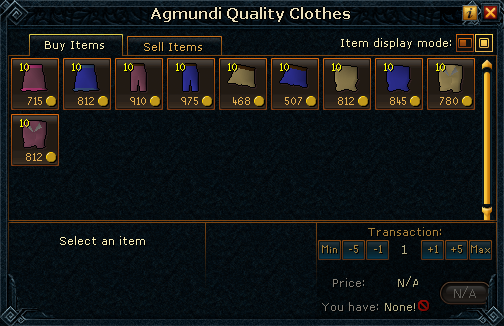 Agmundi gets most of her stock from Vermundi, her sister in Keldagrim East. As such, she is the first destination for dwarves in need of new clothing. The clothing sold here is much too small for humans to comfortably wear, although some players wear it anyway.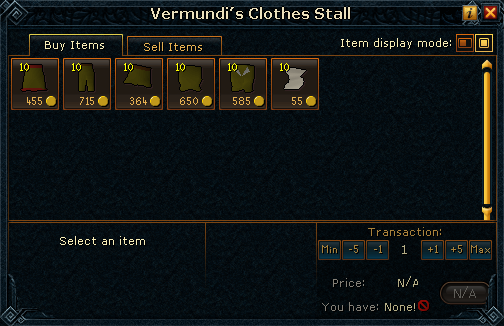 Most of Vermundi's merchandise is sent to her sister Agmundi in Keldagrim west, so the stock here is somewhat lacking. Although this stall has a thieve option, it cannot actually be stolen from.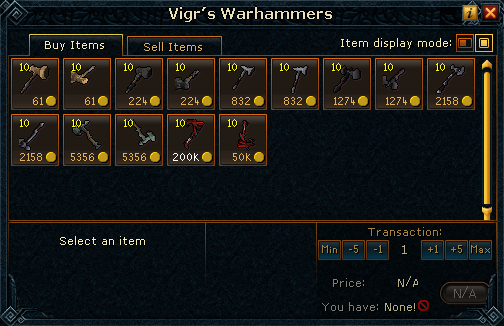 Vigr is a particularly angry dwarf that sells a variety of warhammers. He doesn't appear to think much of humans, and is a supporter of the Red Axe, although he later denies it. There is a sink, fireplace, and more importantly, a furnace, in this room that, as of yet, cannot be used by players.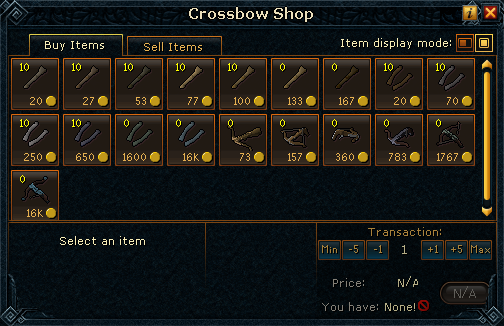 One of only three crossbow stalls in the game, it stocks a wide variety of crossbow limbs and crossbow stocks. This stall is notable because it can be thieved with level 49 Thieving and because it is the only shop that sells Bolt pouches. If stealing from the stalls in Keldagrim, it is highly recommended you wear crush-resistant armour to defend against the Black Guards' attacks. After the store update in late September, he no longer sells rune limbs, yew stocks, or crossbows.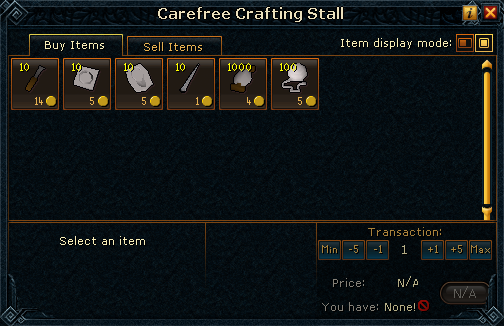 This stall recently had its stock expanded to include more items. It can be stolen from with 5 thieving.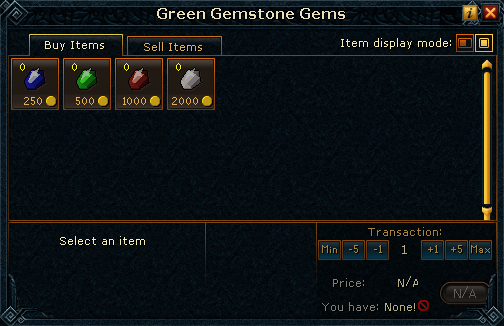 This shop sells a variety of gems that can be used to make jewellery with the Crafting skill. This stall can be stolen from with 75 thieving, and seems to respawn faster than the gem stall in Ardougne. This store has a base stock of 0 after the store update. In order for it to have gems in stock a player would have had to sell their gems here.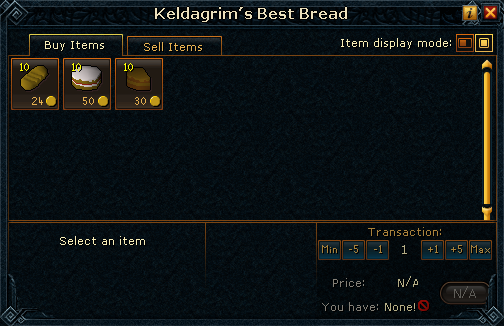 This stall sells a variety of baked goods. It can be stolen from with 5 thieving and respawns twice as slow as the cake stalls in Ardougne, but gives twice as much experience.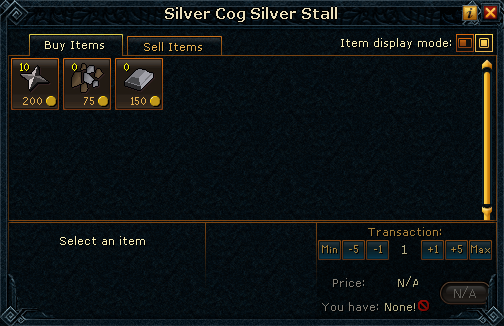 This stall can be stolen from with 50 thieving. It is notable because it respawns twice as fast as the silver stall in Ardougne, making this an excellent source of silver.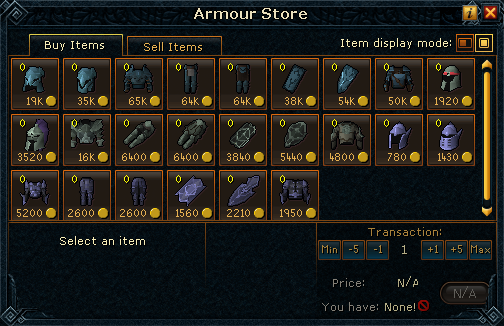 This armour store can be found downstairs in the blast furnace factory. It sells a variety of mithril, adamant, and runite armour. However, the items are not stocked by NPCs; their base stocks are 0. All items for sale in this shop are provided by players; Who often sell their smithed goods here. The shop removes its stock VERY slowly, so anything sold to the shop will usually remain there for a while.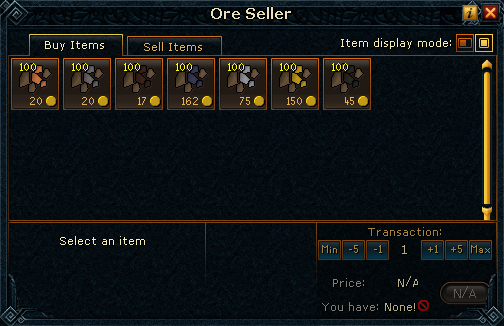 The ore seller can found downstairs in the blast furnace factory. This shop stocks ore used for smithing. The base stocks of all ore types are 100. The shop is restocked by a dwarf that constantly enters the room and gives a large number (around 30) of one type of ore to the shop. Ordan can also unnote ore, for a fee.
Unnote prices are as follows (with 1/2 coins rounded down):

Kjut sells only one item: kebabs. These can be bought for a single coin and are excellent food when stealing in the marketplace. Be warned, though; when consumed, kebabs can have somewhat random effects, and while they can heal a very large number of life points, they can also temporarily lower stats.
Kebab: 1 Coin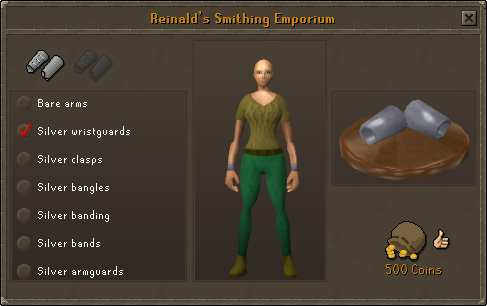 Reinald's Smithing Emporeum is one of Keldagrim's newest shops. Unlike most shops, though, this store doesn't sell items, and instead changes players' appearances. Reinald's services cost 500 coins, although the store's services were free during the first week or so after its grand opening.
Bare Arms - 500 Coins
Gold Wristguards - 500 Coins
Gold Clasps - 500 Coins
Gold Bangles - 500 Coins
Gold Banding - 500 Coins
Gold Bands - 500 Coins
Gold Armguards - 500 Coins
Silver Wristguards - 500 Coins
Silver Clasps - 500 Coins
Silver Bangles - 500 Coins
Silver Banding - 500 Coins
Silver Bands - 500 Coins
Silver Armguards - 500 Coins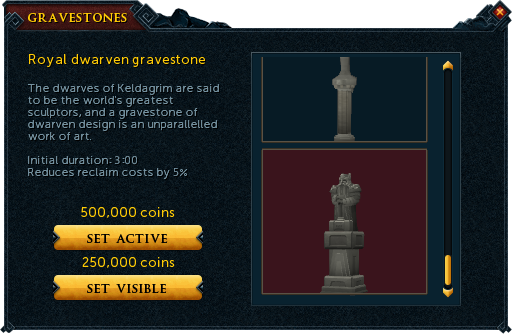 Owned by Blasidar the Sculptor, this small shop allows players to change their gravestone in the event that they should be unfortunate enough to die. The things sold are not items, but instead appear when the player dies. Expertly chiselled from stone, these graves are much more ornate (and expensive) than those available in Lumbridge church.
Memorial Plaque - Free
Font of Life - 50,000 coins
Stele - 50,000 coins
Symbol of Saradomin - 50,000 coins
Symbol of Zamorak - 50,000 coins
Symbol of Guthix - 50,000 coins
Symbol of Bandos - 50,000 coins
Symbol of Armadyl - 50,000 coins
Ancient Symbol - 50,000 coins
Angel of Death - 500,000 coins