Walkthrough
Edit
| | |
| --- | --- |
| Start point | Speak to Ozan in Draynor Village. |
| Member requirement | Free to play |
| Official difficulty | Novice |
| Length | Medium (~53 minutes) |
| Requirements | None |
| Items required | Items from the tool belt are not listed unless they do not work or are not automatically added. |
| Recommended | For lower levels, some food and iron armour or better is recommended. |
| Enemies to defeat | |
The Skulls
Edit
The Headquarters
Edit
Follow Khnum. Ozan will warn of getting too close or too far.
Click on the door Khnum went through.
Talk to Khnum.
Lady Keli
Edit
Head south of the headquarters towards the river.
Click on a Skulls mercenary or Mercenary Joe.
Kill the mercenaries and pick up the Ransom note.
Talk to Leela and remember the passphrase she gives you.
Al Kharid
Edit
Head South into the palace and talk to the Palace guard.
Head Northeast of the palace to the Crafting shop, and climb the steps inside.
Climb the ladder.
Continue traversing through several building obstacles.
"Leave it to Ozan" on the flagpole, and then shimmy across the rope.
"Climb up brickwork" to activate a cutscene.
After the cutscene, climb up the brickwork.
Head south and "Break in" through the skylight.
Open the western chest and read the scroll.
Kharid-ib
Edit
Inspect the Het scales.
Drag random statue pieces onto the scale.
Click the green gem in the middle to weigh the pieces.
Swap a statue piece and weigh them again.
Drag any statue piece to the backpack in the upper left.
"Place weight" on the Kharid-ib display.
Tell Osman the passphrase that was obtained from Leela.
During the cutscene, choose either option.
Quest complete!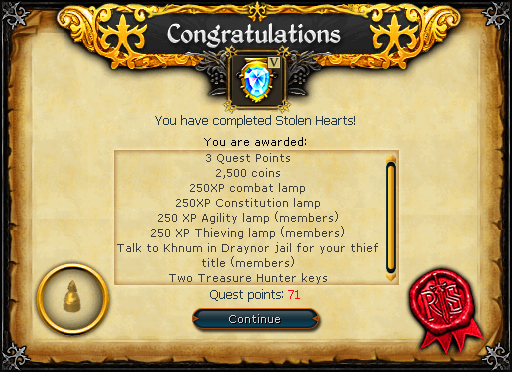 3 quest points (if Prince Ali Rescue has not been completed)

2,500 coins

250 experience lamp
250 experience lamp
250 experience lamp (Members only)
250 experience lamp (Members only)
A title after talking to Khnum in Draynor jail, which can be changed by talking to him again:

Artful Dodger

[Name]
[Name]

the Enforcer

Don

[Name]
[Name]

the Swindler

2 Treasure Hunter keys and 2 Hearts of Ice

Music unlocked
Ad blocker interference detected!
Wikia is a free-to-use site that makes money from advertising. We have a modified experience for viewers using ad blockers

Wikia is not accessible if you've made further modifications. Remove the custom ad blocker rule(s) and the page will load as expected.