A steel key ring is one of the rewards from the One Small Favour quest. It is useful because a number of keys can be placed onto it without taking extra inventory spaces. It is not required to take keys off of the key ring to unlock doors with them.
The key ring is automatically kept upon death, unless death occurs in the Wilderness, in which case the key ring and all keys attached will be lost.
If lost, a new key ring can be bought from Yanni Salika in Shilo Village for 500 coins; however, this will not bring back all of the keys on it, and one will have to collect them all over again.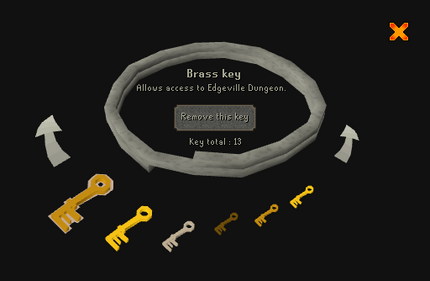 The key ring can hold most keys (excluding ones that disappear after one use, such as shade keys, muddy keys, HAM Storeroom keys and crystal keys). To date, it can hold 12 keys in the following order:
It used to be highly recommended that players use the drop trick to get multiple key rings. However, the keyring now only has the option of being destroyed and, therefore, cannot be dropped.
The key ring previously held 13 keys, but after an update removed the Weapon store key from the game, it can no longer be stored on the key ring, which now holds 12 keys.