Steel dragon
Discuss

88
22,498pages
on this wiki
Steel dragon
Release date
17 January 2005 (Update)
Members?
Yes
Combat level
144
XP per kill
766.3 (and 252.9 experience)
Slayer level
1
Slayer XP
367.8
Assigned by
Duradel or Lapalok, Kuradal
Always drops
Dragon bones and 5 Steel bars
Examine text
Its scales seem to be made of steel.

Combat stats
LP
Max hit
10000
Melee - 508
Dragonfire - 2,100+
Attack
Defence
Ranged
Magic
Unknown
Unknown
Unknown
Unknown
Other
Immune to Poison?
Immune to Stun?
No
No
Attack Speed

Speed 6 (Interval: 2.4 seconds)

Aggressive?
Poisonous?
No
No
Attack styles
Weakness
Melee
Dragonfire (long-ranged & melee-ranged)
Water spells

[view template]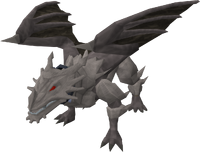 Steel dragons are powerful dragons made out of metal found in Brimhaven Dungeon, Kuradal's Dungeon and the Fortress of Ghorrock. They can also be bought as a guard for player-owned dungeons (only for the treasure room) for 10 million coins if the player's Construction level is 95 (see Steel dragon (POH)).
Please note that as with all player-owned dungeon monsters that monsters in the dungeon will not drop any items and will not give any experience in combat.
Steel dragons have a chance to drop the famous draconic visage, but as a very rare drop. They can drop rune items, and have an increased chance of dropping dragon platelegs/skirt over its counterparts, the iron and Bronze dragon. However the rune hatchets, maces, and limbs can generate quite a nice profit if high alched, ranging from 8k to 9.6k each.
Like most metal dragons, steel dragons have extremely high defence. Since they are made out of metal, they are fairly weak to magic attacks, so spells like Water Surge or Magic Dart are useful against them. With staves now being 2-handed, the use of Wands is recommended if the player does not have access to Super Antifires.  Anti-fire potions are a must while fighting them if using magic. The spell of a polypore staff is also very effective when used in conjunction with Mystic Might (or if possible Augury) and/or a magic potion; if taking none of these then a high Magic level of at least 85 is suggested. An anti-dragon shield or dragonfire shield will reduce most damage from dragonfire, an antifire potion or antifire mix reduces some dragonfire damage, and an appropriate shield and potion/mix used together negate all damage from dragonfire. With no protection, dragonfire has a maximum hit of 490. With just a shield, it has a max hit of 50. With just a potion/mix, the max hit is reduced a bit to 250 but is still quite high, making it difficult to slay even one steel dragon without taking extensive damage.
Melee tactics
Edit
Steel Dragons are no longer weak to stab, and as such using melee is not advised.  With good enough stats and good gear, it may still be effective.  However magic is best.
Steel dragons also have the ability to use their fire breath from a distance, an ability shared with the other metal dragons, Elvarg during the Dragon Slayer quest, brutal green dragons, the King Black Dragon, and frost dragons. Steel dragons can hit up to 229 with melee, and even harder with their breath if the player is not wearing an anti-dragon shield. However, some people bring runes to mage steel dragons while not getting hit at all by standing at least one space away from the dragon's head (being on low detail helps as you can see the floor grid), wearing an anti-dragon shield and drinking antifire potions. It is also possible to range these dragons, as rangers can kill 50 or more dragons in one trip. Players planning to range them should bring several ranging potions and anti-fire potions (usually around five ranging potions and nine anti-fire potions). Rangers should also bring blessed dragonhide armour or black dragonhide armour with several emerald bolts (e). Players seeking to melee steel dragons will need to use prayer potions to kill them effectively (typically about 10-15 per inventory). It is, however, not recommended that players kill these dragons with melee unless all their melee stats are at least level 85. Meleers should use the Protect from Melee prayer; even players with level 99 Defence will otherwise take heavy melee damage. Even with prayer, players should bring two to three pieces of high-level food just to be safe.
It is recommended to put the game setting (under the chat box) on "filter". Otherwise, the message stating that the player's dragonfire resistance is running out may get lost.
Locations
Edit
Kuradal's Dungeon
Edit
One of the best locations to kill steel dragons (if assigned by Kuradal) is Kuradal's Dungeon, due to its close proximity to a fairy ring and the ferocious ring's bonus in the dungeon. However, cannons cannot be used in Kuradal's Dungeon. Players with at least level 86 and/or 90 Agility will find shortcuts in the dungeon, reducing the time required to reach the dragons. This location is fairly popular and can become crowded with more slayers than there are spawns.
There are four steel dragons in this location. The dragons are tightly grouped together, and the area in which they are located is rather small, thus increasing the risk of mages and rangers finding themselves inside melee range of an attacking dragon after completing a kill. Unless using the shortcut from the abyssal demon room, players run the risk of being attacked by an iron dragon; this is also a risk if players stray too close to that end of the metal dragon chamber.
The fortress of Ghorrock, at the far north-west corner of the Wilderness is accessible once a certain point has been reached in the Temple at Senntisten, contains several spawns of both iron and steel dragons. Like in Kuradal's Dungeon the two species occupy the same space without mingling, allowing players to kill one type with minimum interference from the other. Steel dragons occupy the north and west sides of the outer courtyard of the fortress. It is within the area where the Stone of Jas' residual effects will boost damage, making it an appealing option. Players using super anti-fire potions are strongly recommended to drink a dose before using any of the entrances.
The fortress can be reached in several ways. The quickest safe way requires completion of Ritual of the Mahjarrat; by using the fairy ring code dkq to the Glacor Cave (gaining the damage-boosting effect of the Stone of Jas energy as well), exiting the cave and running directly north over the Ritual Plateau players can enter the fortress among the iron dragons and run west to the steel dragons. A slower safe option is to go to the dks fairy ring, run north to the canoe at the west edge of the snowy hunter area and then run east from the landing point to enter the fortress from the west.
The other ways to access Ghorrock are from the east side, through the Wilderness. Players with 89 Magic can use Ice Plateau Teleport (Lunar Spellbook) or players with 96 Magic can use Ghorrock Teleport (Ancient Spellbook) to teleport slightly south of the entrance. Those without access to these spells can use the Wilderness obelisks to try and reach the level 44 obelisk and run north-west, although this method is subject to random chance. The final method, and most risky, is to use the Ardougne or Edgeville teleport lever to reach the Deserted Keep and run west past the Mage Arena and Wilderness Agility Course.
Brimhaven Dungeon
Edit
See Brimhaven Dungeon for how to get there efficiently.
Players who haven't earned Karamja gloves 3 (which do not need to be worn to enter the dungeon) must pay Saniboch 875 coins to enter Brimhaven Dungeon. There are aggressive fire giants, wild dogs, black demons and iron dragons between the entrance and the steel dragon. Players using the pipe shortcut from the red dragons should activate Protect from/Deflect Melee before using the shortcut, due to the risk of being attacked by a black demon immediately upon exit of the pipe.
This location is not recommended for players that have access to any of the other options, due to the low number of steel dragons available.
Brimhaven Resource Dungeon
Edit
Located within Brimhaven Dungeon, this is a much less crowded location available to players with level 80 Dungeoneering. The Brimhaven Dungeon resource dungeon houses about five steel dragons south of the entrance and about seven iron dragons to the northeast. There is a hammer spawn and an anvil present here, which allows players to smith the bars dropped. Players may be interested in smithing high demand low level ranged ammo, such as steel knives from the regular steel bar drops of the dragons, however the g.e value of these is very low, a better stackable option would be Steel arrowheads as they have a higher g.e value. Mages may be interested in smithing steel platebodies to alch for coins if they have the appropriate Smithing level. There are four anvils in the dungeon, and the steel dragons are close to one of them. Due to the Dragons being non agressive after the EoC update, it is possible to pick up all the bars after each kill and smith them if one wishes to do so
100% drops
Edit
Ammo and Runes
Edit
Other items
Edit
Rare drop table drops
Edit
This monster drops items from the rare drop table.
The ring of wealth improves the chances if equipped but is not required to access the table.
Show/hide rare drop table

Item
Quantity
Rarity
GE Market Price
Coins
250; 381; 450; 3,000; 9,000; 12,000
Common
Not sold
Uncut sapphire
1
Common
1,106
Uncut emerald
1
Common
1,749
Uncut ruby
1
Common
3,429
Loop half of a key
1
Uncommon
8,456
Tooth half of a key
1
Uncommon
12,074
Uncut diamond
1
Uncommon
7,237
Uncut dragonstone
1
Rare
15,457
Dragonstone
1
Rare
10,361
Dragon dagger
1
Uncommon
17,181
Rune battleaxe
1
Rare
24,584
Rune javelin
5
Rare
1,250
Adamant javelin
20
Very rare
920
Rune spear
1
Very rare
12,043
Dragon spear
1
Very rare
37,035
Dragon dagger
50 (noted)
Very rare
859,050
Rune kiteshield
1
Very rare
32,394
Shield left half
1
Very rare
64,765
Dragon helm
1
Very rare
59,980
Adamant bolts
200
Uncommon
18,400
Rune arrow
150–200; 500
Rare
29,850–199
Onyx bolts
150
Rare
1,306,950
Battlestaff
200 (noted)
Rare
1,671,600
Air orb
1,000 (noted)
Rare
1,525,000
Fire orb
1,000 (noted)
Rare
1,592,000
Vecna skull
1
Very rare
145,208
Water talisman
1
Uncommon
4,619
Earth talisman
25–35 (noted)
Uncommon
20,425–28,595
Fire talisman
25–35 (noted)
Uncommon
50,975–71,365
Chaos talisman
1
Uncommon
218
Nature talisman
1
Uncommon
260
Pure essence
500–15,000 (noted)
Uncommon
45,000–1,350,000
Nature rune
47–77
Rare
5,217–8,547
Soul rune
20
Rare
2,440
Death rune
50; 121
Rare
93
Blood rune
50
Rare
8,200
Raw swordfish
125 – 250; 1,000 (noted)
Uncommon
38,250–306
Raw shark
250–500 (noted)
Uncommon
236,000–472,000
Big bones
150 – 500 (noted)
Uncommon
65,850–219,500
Coal
150–7,500 (noted)
Uncommon
41,700–2,085,000
Adamantite ore
150–800 (noted)
Uncommon
237,150–1,264,800
Silver ore
100 (noted)
Rare
10,900
Adamant bar
1,000–7,000 (noted)
Rare
3,231,000–22,617,000
Runite ore
100 (noted)
Rare
1,042,900
Rune bar
1,50,150 (noted)
Rare
13,025–1,953,750
Clean ranarr
33 (noted)
Uncommon
78,804
Clean toadflax
25–250 (noted)
Uncommon
96,200–962,000
Clean snapdragon
30–120 (noted)
Uncommon
103,500–414,000
Clean torstol
10–100 (noted)
Uncommon
116,490–1,164,900
Saradomin brew (4)
250 (noted)
Very rare
165,500
Watermelon seed
3
Uncommon
6,276
Yew seed
1–50
Rare
70,571–3,528,550
Magic seed
1–6
Rare
163,332–979,992
Palm tree seed
10
Rare
1,088,560
Snapdragon seed
1
Rare
2,179
Torstol seed
1–31
Rare
84,168–2,609,208
Fellstalk seed
2
Rare
872
Yew logs
100–20,000 (noted)
Rare
57,600–11,520,000
As with all POH dungeon monsters, Steel dragons that are purchased and placed in dungeons do not drop items when they die. However, the dragon's dragonfire can still be used to charge the dragonfire shield, making the dragon a highly desired guardian.
The steel dragon's max hit with dragonfire against an unprotected player is 490. The dragon seems to hit higher more often when using its dragonfire attack from afar.
Steel dragons, like all other metallic dragons, received a voice update. Instead of hearing large noise when you hit it, it makes a smaller, softer noise.