Steel arrow
Discuss

4
22,529pages
on this wiki

Steel arrow
Release date
25 March 2002 (Update)
Members?
No
Quest item?
No
Tradeable?
Yes
Lendable?
No
Equipable?
Yes
Stackable?
Yes
High Alch
27 coins
Low Alch
18 coins
Destroy
Drop
Store price
46 coins
(Ava)
Exchange price

12

coins (info)
Buy limit
10,000
Examine
Arrows with steel heads.
Weight
0 kg
[view]
•
[talk]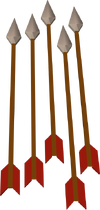 Steel arrows are arrows that are stronger than iron arrows and are usable on any bow made of willow or better. They may be created through the Fletching skill by using 15 steel arrow tips on 15 headless arrows, granting 75 Fletching experience. Doing so requires at least level 30 in the Fletching skill.
Steel arrows are not generally used in player killing, but they are common to train with. They are the most used arrow in the class due to their relative cheapness and strength.
The Telekinetic Grab spell (requires level 33 Magic) would most likely not be cost-effective when using steel arrows; only if leaving stacks of 20 or more arrows at inaccessible locations would it justify the law rune required.
Note: Ava's accumulator will pick up your steel arrows if you are not wearing metal armour. It may also generate steel arrows in your inventory or your quiver if it is full.
400 steel arrows is a possible prize from the Squeal of Fortune. They could be converted to 10800 coins, which is 6,000 more than selling them on the Grand Exchange.
Combat Stats

| Class | Slot |
| --- | --- |
| Ranged | |

Weapons
Main
Off
Damage
192
-
Accuracy
-
-
Type
Arrow
-
Attributes
Armour rating

0

Life bonus

+0

Prayer bonus

0

Critical bonuses

0%

0%

0%




Compare item

[view] • [talk]
How to make this item
Edit
Obtain some iron ore and coal either by buying it on the grand exchange or by mining it from an iron rock and coal rock. Use these to make steel bars in a furnace.
Obtain some type of wood either by cutting them yourself from a tree or by buying them from the grand exchange.
Obtain a knife.
Obtain some kind of feathers.
Use the knife on the wood and choose to make it into Arrow shafts.
Use the feathers on the arrow shafts and choose to make them into Headless arrows.
Obtain a hammer either by buying it from the grand exchange or by some other method.
Locate an anvil somewhere in RuneScape.
Use the steel bars on the anvil and choose to make it into Steel arrowtips.
Use the arrowheads on the headless arrows and make them into steel arrows.
Store locations
Edit
This item can also be bought or sold from:
Dropping monsters
Edit
This section is a stub. Please help expand it.

Metal arrows
Arrowheads

Bronze • Iron • Steel • Mithril • Broad • Adamant • Rune • Dragon

Brutal arrows
Fire arrows
Dungeoneering arrows

Novite • Bathus • Marmaros • Kratonite • Fractite • Zephyrium • Argonite • Katagon • Gorgonite • Promethium • Sagittarian

God arrows
Special arrows

Ice • Ogre • Broad • Training • Sacred clay

Other items
Melee Weapons

Dagger • Hatchet • Mace • Claw(m) • Sword • Longsword • Scimitar • Spear(m) • Warhammer • Battleaxe • Two-hander • Halberd(m) • Hasta(m) • Pickaxe

Ranged weapons/ammo

Crossbow(m) • 2h Crossbow(m) • Bolts(m) • Arrows • Brutal arrows(m) • Darts(m) • Javelins • Throwing axe(m) • Knife(m)

Off-hand weapons

Battleaxe • Claw • Crossbow • Dagger • Dart • Knife • Longsword • Mace • Scimitar • Sword • Throwing axe • Warhammer

Armour

Helm • Full helm • Square shield • Kiteshield • Chainbody • Platebody • Plateskirt • Platelegs • Boots(m) • Gloves(m) • Gauntlets • Defender(m)

Other

Arrowtips(m) • Broken axe • Broken pickaxe • Bar • Coal • Nails • Bullseye lantern (frame)(m) • Gnome platebody

(m) stands for members only.