The steel armour set (sk) is an armour set requiring level 20 defence to equip and is from the Grand Exchange. It can only be made into a set by exchanging it with the Grand Exchange clerks. It contains a steel platebody, steel plateskirt, steel full helm, and a steel kiteshield.
Sets are commonly used to reduce the amount of bank space taken up, which is especially useful in Free-to-play.
To smith a set, 13 steel bars are necessary. (5 for platebody, 3 for legs, 2 for helm, and 3 for kiteshield), and if done from scratch (including smelting of steel bars), 1 set will grant a total of 715 smithing experience. Smithing just the armour components from steel bars grants 487 smithing experience.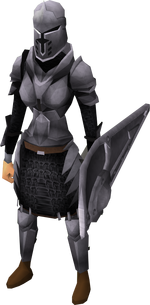 Components and Bonuses
Edit
Standard

Melee

| | |
| --- | --- |
| Plateleg sets | |
| Plateskirt sets | |

Ranged
Magic

Treasure Trails

Melee

| | |
| --- | --- |
| Plateleg sets | |
| Plateskirt sets | |

Ranged
Magic
Prayer
 Third age

Barrows
God Wars Dungeon
Others
Ad blocker interference detected!
Wikia is a free-to-use site that makes money from advertising. We have a modified experience for viewers using ad blockers

Wikia is not accessible if you've made further modifications. Remove the custom ad blocker rule(s) and the page will load as expected.