Stat Spy
Discuss

0
22,528pages
on this wiki
Stat Spy is a Lunar spell which requires the completion of Lunar Diplomacy and Dream Mentor to cast. The spell may be cast at level 75 Magic and requires 2 astral, 2 cosmic, and 5 body runes. The spell may be cast on other players to discover stats, including current life points, all skills, and boosted stats.
The target of the spell receives a message that their stats are being spied upon along with the name of the caster.
Stat Spy costs 590 coins for each cast.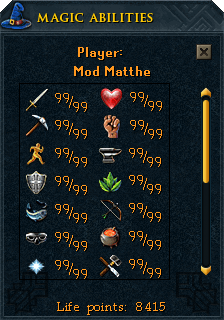 Necromancers, Forgotten and Reborn mages, among others, appear to use this spell as their first strike on a player wearing the shadow silk hood in Daemonheim.
Since the Prayer update on the 6th of September 2011, you can no longer know the current prayer points of the player you're using the spell on.
Teleport

Lunar Home • Ourania • Moonclan • Waterbirth • South Falador • Barbarian Outpost • North Ardougne • Khazard • Fishing guild • Catherby • Ice Plateau • Trollheim

Group Teleport

Tele Group Moonclan • Tele Group Waterbirth • Tele Group Barbarian • Tele Group Khazard • Tele Group Fishing Guild • Tele Group Catherby • Tele Group Ice Plateau • Group Teleport to Trollheim

Skill-related

Bake Pie • Cure Plant • Fertile Soil • Humidify • Hunter Kit • Magic Imbue • Make Leather • Remote Farm • Spiritualise Food • Superglass Make • String Jewellery • Plank Make • Tune Bane Ore

Healing or Curing

Cure Other • Cure Me • Cure Group • Dream • Heal Other • Heal Group

Sharing
Others

Disruption Shield • Monster Examine • NPC Contact • Repair Rune Pouch • Spellbook Swap • Stat Spy • Vengeance Other • Vengeance • Vengeance Group • Borrowed Power

Removed

Energy Transfer