Ad blocker interference detected!
Wikia is a free-to-use site that makes money from advertising. We have a modified experience for viewers using ad blockers

Wikia is not accessible if you've made further modifications. Remove the custom ad blocker rule(s) and the page will load as expected.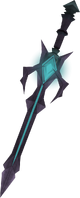 The starfury sword is an upgraded starfire sword, a two-handed melee weapon. It is upgraded using a starborn diamond, which could only be done during the Starfire weapons Squeal of Fortune promotion (26 April to 6 May 2013) or the Starfury armour Treasure Hunter promotion (10 to 28 September 2015). During the first promotion, it could also be won from the Squeal of Fortune as a "Rare" reward until 7 May 2013. It is also a possible reward from shiny two-, three-, or four-leaf clover necklaces.
The sword has four versions, requiring level 1, 20, 40, or 60 Attack to wield, respectively. If lost, it can be retrieved from Diango for a fee depending on the highest version unlocked - free, 2,000 coins, 10,000 coins, or 50,000 coins, respectively.
Combat Stats
Requirements
None
Class
Slot
Melee
Tier
4
Weapons
Main
Off
Damage
89
-
Accuracy
140
-
Style
Slash
Range
1
Attributes
Damage reduction
Armour
0
PvM:

0%

PvP:

0%

Life points
0
Style bonuses
Prayer
0

0

0

0

Attack speed
Average

Interval: 3.6 seconds

[FAQ] • [doc]
Combat Stats
Requirements
20
Class
Slot
Melee
Tier
18
Weapons
Main
Off
Damage
402
-
Accuracy
292
-
Style
Slash
Range
1
Attributes
Damage reduction
Armour
0
PvM:

0%

PvP:

0%

Life points
0
Style bonuses
Prayer
0

0

0

0

Attack speed
Average

Interval: 3.6 seconds

[FAQ] • [doc]
Combat Stats
Requirements
40
Class
Slot
Melee
Tier
38
Weapons
Main
Off
Damage
849
-
Accuracy
590
-
Style
Slash
Range
1
Attributes
Damage reduction
Armour
0
PvM:

0%

PvP:

0%

Life points
0
Style bonuses
Prayer
0

0

0

0

Attack speed
Average

Interval: 3.6 seconds

[FAQ] • [doc]
Combat Stats
Requirements
60
Class
Slot
Melee
Tier
58
Weapons
Main
Off
Damage
1296
-
Accuracy
1070
-
Style
Slash
Range
1
Attributes
Damage reduction
Armour
0
PvM:

0%

PvP:

0%

Life points
0
Style bonuses
Prayer
0

0

0

0

Attack speed
Average

Interval: 3.6 seconds

[FAQ] • [doc]
Starfire weaponry
Starfury weaponry
 Sword
 Bow
 Staff
Starfire armour

| | |
| --- | --- |
| Melee | |
| Ranged | |
| Magic | |
| Other |  Cape |

Starfury armour

| | |
| --- | --- |
| Melee | |
| Ranged | |
| Magic | |
| Other |  Cape |

Blueprints
 Bow
 Staff
 Sword
Other
 Ivar
 Starlight ore
 Starborn diamond