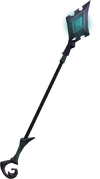 A starfury staff is an upgraded version of the starfire staff. The process of upgrading involves a starborn diamond. It could also be won from the Squeal of Fortune as a "Rare" reward until 7 May 2013. It is possible to receive one from a sparkling clover necklace.
As with any other staff, damage values depend on the spell used. The Magic level can be changed by right-clicking on the staff while unequipped and selecting "Change".
If this staff is lost, Diango can replace it for a fee which varies depending on which tier you are able to use; e.g., if you can use the highest tier, he will charge 50,000 coins to replace it.
Combat Stats
Skill requirements
None
Class
Slot
Magic
Weapons
Main
Off
Damage
-
-
Accuracy
140
-
Style
Spell-casting
Attributes
Armour
0
Life points
0
Prayer
0
Strength bonuses

0

0

0

Attack speed
Average

Interval: 3.6 seconds

[view] • [talk]
Combat Stats
Skill requirements
20
Class
Slot
Magic
Weapons
Main
Off
Damage
-
-
Accuracy
292
-
Style
Spell-casting
Attributes
Armour
0
Life points
0
Prayer
0
Strength bonuses

0

0

0

Attack speed
Average

Interval: 3.6 seconds

[view] • [talk]
Combat Stats
Skill requirements
40
Class
Slot
Magic
Weapons
Main
Off
Damage
-
-
Accuracy
590
-
Style
Spell-casting
Attributes
Armour
0
Life points
0
Prayer
0
Strength bonuses

0

0

0

Attack speed
Average

Interval: 3.6 seconds

[view] • [talk]
Combat Stats
Skill requirements
60
Class
Slot
Magic
Weapons
Main
Off
Damage
-
-
Accuracy
1070
-
Style
Spell-casting
Attributes
Armour
0
Life points
0
Prayer
0
Strength bonuses

0

0

0

Attack speed
Average

Interval: 3.6 seconds

[view] • [talk]
Starfire weaponry
Starfury weaponry
 Sword
 Bow
 Staff
Starfire armour

| | |
| --- | --- |
| Melee | |
| Ranged | |
| Magic | |
| Other |  Cape |

Starfury armour

| | |
| --- | --- |
| Melee | |
| Ranged | |
| Magic | |
| Other |  Cape |

Other
 Starlight ore
 Starborn diamond