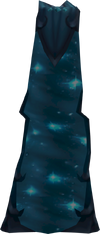 The starfury cape is a hybrid cape made by adding a starborn diamond to a starfire cape. It scales up to level 70 Defence, and acts like Ava's accumulator (if unlocked).
The Starfury cape is also animated, similarly to the Fire cape.
If a player loses their starfury cape, it can be reclaimed from Diango at a cost of 100,000 coins.
Combat Stats
Requirements
1
Class
Slot
Hybrid
Tier
16
Weapons
Main
Off
Damage
-
-
Accuracy
-
-
Style
-
Range
-
Attributes
Damage reduction
Armour
3.9
PvM:

0%

PvP:

0%

Life points
0
Style bonuses
Prayer
0

0.6

0.6

0.6

[FAQ] • [doc]
Combat Stats
Requirements
40
Class
Slot
Hybrid
Tier
40
Weapons
Main
Off
Damage
-
-
Accuracy
-
-
Style
-
Range
-
Attributes
Damage reduction
Armour
11.4
PvM:

0%

PvP:

0%

Life points
0
Style bonuses
Prayer
0

7.8

7.8

7.8

[FAQ] • [doc]
Combat Stats
Requirements
70
Class
Slot
Hybrid
Tier
70
Weapons
Main
Off
Damage
-
-
Accuracy
-
-
Style
-
Range
-
Attributes
Damage reduction
Armour
29.4
PvM:

0%

PvP:

0%

Life points
0
Style bonuses
Prayer
0

19.1

19.1

19.1

[FAQ] • [doc]
Starfire weaponry
Starfury weaponry
 Sword
 Bow
 Staff
Starfire armour

| | |
| --- | --- |
| Melee | |
| Ranged | |
| Magic | |
| Other |  Cape |

Starfury armour

| | |
| --- | --- |
| Melee | |
| Ranged | |
| Magic | |
| Other |  Cape |

Blueprints
 Bow
 Staff
 Sword
Other
 Ivar
 Starlight ore
 Starborn diamond