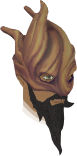 A Splitbark helm is a piece of splitbark armour worn in the headwear slot. Level 40 Defence are required to wear this helm. The splitbark helm can be made by giving 2 pieces of bark, 2 pieces of fine cloth, and 6,000 coins to Wizard Jalarast at the Wizards' Tower. They can also be obtained by looting ninja implings found in Puro-Puro or around RuneScape.
The splitbark helm can be stored in the Magic wardrobe of the Costume Room in a Player-owned House. It can also be enchanted to hold up to 500 combat scrolls.
Combat Stats

A player wearing a full set of splitbark armour.

Skill requirements
40
Class
Slot
Magic
Weapons
Main
Off
Damage
-
-
Accuracy
-
-
Style
-
Attributes
Armour
125
Life points
0
Prayer
0
Strength bonuses

0

0

0

[view] • [talk]
Dropping monsters
Edit
Disassembly
Edit
This item can be disassembled with the
Invention
skill.