Split logs are made from Arctic pine logs when they are used on a Woodcutting stump. The logs require level 54 Woodcutting to split, giving 42.5 Woodcutting experience. They may be deposited at the pile of logs north of the south-western-most bridge in Neitiznot to free inventory space. It takes approximately 1 minute 25 seconds to convert an entire inventory of Arctic Pine logs to split logs.
Split logs are used to repair the bridges in the quest The Fremennik Isles. Apart from training woodcutting, they have no other use.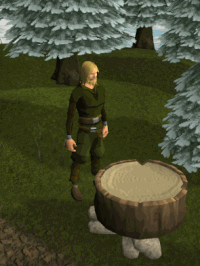 Disassembly
Edit
When splitting arctic pine logs, if you choose to split more than the amount in your inventory, it will say, "You have run out of an Arctic Pine Log".
Regular
Cursed
 Willow
 Magic
Pyre
Coloured
Dungeoneering branches
Miscellaneous
Gielinor Games (discontinued)
Ad blocker interference detected!
Wikia is a free-to-use site that makes money from advertising. We have a modified experience for viewers using ad blockers

Wikia is not accessible if you've made further modifications. Remove the custom ad blocker rule(s) and the page will load as expected.