Ad blocker interference detected!
Wikia is a free-to-use site that makes money from advertising. We have a modified experience for viewers using ad blockers

Wikia is not accessible if you've made further modifications. Remove the custom ad blocker rule(s) and the page will load as expected.
Spirit guthatrice
Release
15 January 2008 (Update)
Summoning level
43
Duration (

mins

)
36
Points cost
5
Race
Trices
Abilities
Forager - cockatrice eggs. Right-click Drain - inflicts damage and drains Attack stat.
Special moves
hits up to 10 and drains Attack stat
Combat level
51
Examine
If looks could kill...oh wait! They do!

Combat stats
Life points
Max hit
2150
70 (approx)
Attack
Defence
Ranged
Magic
43
43
43
43
Immune to poison
Yes
Attack style
magic
[view] • [talk]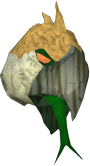 A Spirit guthatrice is a variant of the Spirit cockatrice familiar. Like the Spirit cockatrice, it is a level 43 Summoning familiar whose Sp. guthatrice pouch requirements includes an egg incubated by a Spirit cobra - in this case a green bird's egg instead of a chicken egg. Like the Spirit cockatrice, it also has a right-click Drain special ability and can use the Petrifying Gaze scroll - in this case targeting the opponent's Attack skill instead of his Defence skill.
The Spirit guthatrice may also randomly produce cockatrice eggs.
Spirit guthatrice pouch
Edit
Petrifying gaze scroll
Edit
A Petrifying gaze scroll is created by using a Spirit cockatrice, Zamatrice, Guthatrice or Saratrice pouch on a summoning obelisk. The same Pertifying Gaze scroll is made from any cockatrice variant, so it is advised to use the cockatrice pouch to make the scrolls as they are cheaper than its variants.
Petrifying Gaze
Edit
Like the Spirit cockatrice, the Spirit guthatrice can use the Petrifying Gaze special attack, though with slightly different results: the attack deals up to 100 life points against an opponent and drains their Attack level by up to 3.
Regular familiars

Gold charm
Green charm
Crimson charm
Blue charm
Elder charm
Clay familiar
Other
 Meerkats
 Ghast
 Chocatrice