Spirit dagannoth
Discuss

3
22,499pages
on this wiki
Spirit Dagannoth
Level
83
Duration (

min

)
57
Points cost
9
Race
Dagannoth
Abilities
Ferocious - chance of attacking again without delay
Special moves
Spike Shot
Combat level
148
Examine text
Face that thing that should not be!

Combat stats
Life Points
Max hit
4055
160 (180 with special) approx
Attack
Defence
Ranged
Magic
65
65
65
65
Immune to poison?
Yes
Attack Style
Controlled
[view] • [talk]

Spirit dagannoth are level 83 Summoning familiars. They have an ability called Ferocious, shared with the Honey badger, that activates randomly during combat. When this ability activates, the familiar attacks twice in rapid succession. Spirit dagannoth are especially useful for combat training, as these familiars have a Controlled combat style.
Spirit dagannoth pouch
Edit
Spirit dagannoth pouch is made by using a Summoning pouch on a Summoning obelisk with 1 spirit shard, a Crimson charm and a dagannoth hide in the inventory. Making the pouch earns 364.8 experience points. Using the pouch to summon a spirit dagannoth gains 4.1 experience points, and costs 9 Summoning points.
Spike shot scroll
Edit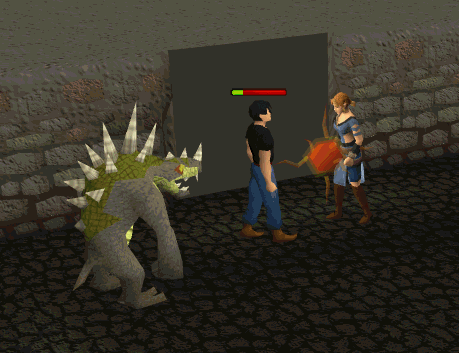 Spike shot scroll enables the use of the Spike Shot special move for a spirit dagannoth. Using the pouch on a Summoning obelisk creates 10 scrolls.
Spike Shot
Edit
Spike Shot is a special move for the spirit dagannoth, which may inflict up to 180 damage, and stuns the opponent. It uses 6 Special Move points.
The examine message may refer to "The Thing That Should Not Be," a song by the band Metallica. It may also refer to the song "What is and What Should Never Be" by the English band Led Zeppelin. Or alternately, the short story "The Thing That Should Not Be" by Burton P. Thom, which appeared in the February, 1924 issue of Weird Tales Magazine, which is likely where Metallica got the idea.
In the FunOrb game Armies of Gielinor, the dagannoth that can be summoned through a portal appears to have the spirit dagannoth units instead of a normal dagannoth.
This familiar resembles a bunyip more than a dagannoth.
Gold charm

Spirit wolf • Dreadfowl • Spirit spider • Thorny snail • Granite crab • Spirit mosquito • Bull ant • Spirit terrorbird • Barker toad • War tortoise • Arctic bear

Green charm

Desert wyrm • Compost mound • Beaver • Void ravager • Macaw • Spirit cockatrice • Spirit guthatrice • Spirit saratrice • Spirit zamatrice • Spirit pengatrice • Spirit coraxatrice • Spirit vulatrice • Magpie • Abyssal parasite • Ibis • Abyssal lurker • Bunyip • Fruit bat • Forge regent • Giant ent • Hydra • Unicorn stallion • Abyssal titan

Crimson charm

Spirit scorpion • Spirit Tz-Kih • Vampyre bat • Honey badger • Evil turnip • Pyrelord • Bloated leech • Smoke devil • Spirit cobra • Stranger plant • Ravenous locust • Phoenix • Granite lobster • Praying mantis • Talon beast • Spirit dagannoth • Swamp titan • Wolpertinger • Iron titan • Pack yak • Steel titan

Blue charm

Albino rat • Spirit kalphite • Giant chinchompa • Void shifter • Void spinner • Void torcher • Bronze minotaur • Iron minotaur • Spirit jelly • Steel minotaur • Spirit graahk • Spirit kyatt • Spirit larupia • Karamthulhu overlord • Mithril minotaur • Obsidian golem • Adamant minotaur • Fire titan • Ice titan • Moss titan • Lava titan • Rune minotaur • Geyser titan

Other

See also: Summoning • Beast of Burden • Forager • Charms • Summoning Obelisks • Summoning pets • Summoning pouches • Summoning scrolls • Wishing well • Dungeoneering familiars