Spirit Tz-Kih
Discuss

5
22,503pages
on this wiki
Spirit Tz-Kih
Level
22
Duration (

min

)
18
Points cost
3
Race
TzHaar
Abilities
Drain opponent's prayer (players only)
Special moves
Fireball Assault
Combat level
36
Examine text
This bat burned down the belfry.

Combat stats
Life Points
Max hit
1100
50 (70 with special)
Attack
Defence
Ranged
Magic
22
22
22
22
Immune to poison?
Yes
Attack Style
Magic
[view] • [talk]

The Spirit Tz-Kih is a Summoning familiar, introduced with the "Summoning 2" update on 31 March 2008. It requires level 22 Summoning.
It is the spirit equivalent of a Tz-Kih, a prayer-draining monster encountered in the Tzhaar Fight Caves. The counterpart of this familiar is level 22 Combat, coinciding with the 22 Summoning needed to summon its spirit counterpart.
Spirit Tz-Kih pouch
Edit
Fireball assault scroll
Edit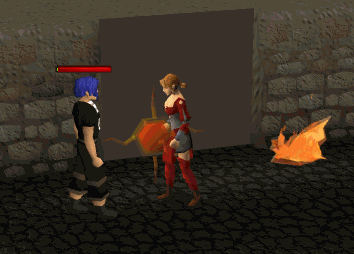 Fireball Assault
Edit
Fireball Assault is a special move of the Spirit Tz-Kih invoked by using a Fireball Assault scroll. When used, it has the potential of hitting up to two nearby targets with up to 70 points of damage. Each use of the scroll requires 6 special move points.
The examine text is a reference to the saying "Bats in the Belfry" which implied something crazy or eccentric.