Spirit mosquito
Discuss

0
24,274pages
on this wiki
Spirit Mosquito
Level
17
Duration (

min

)
12
Points cost
2
Race
Insect
Abilities
None
Special moves
Pester
Combat level
32
Examine text
It buzzes and bites. Nasty.

Combat stats
Life Points
Max hit
850
42
Attack
Defence
Ranged
Magic
17
17
17
17
Immune to poison?
Yes
Attack Style
Attack
[view] • [talk]

Spirit mosquitos are level 17 Summoning familiars, introduced with the "Summoning 2" update on 31 March 2008. It can be used for the following things:
Combat: it is level 32 and can hit up to 40 damage. It is immune to all types of poison. Additionally, its Pester scroll sends it off to directly attack an enemy. This is useful as an alternative method to initiate a battle with an enemy.
Spirit mosquito pouch
Edit
Spirit mosquito pouch
Shards
Cost/XP
Charm
Tertiary
1 ( 25)
143.1
coins
Gold
Proboscis
Create XP
Use XP
Low alch
Hi alch
GE price
46.5
0.2
179
coins
269
coins
123
coins (info)
GE Database
Cost to make
Bogrog shard return
Shard return level
Look up price
6,654
coins
1 ( 

25

)
27
Examine text
I can summon a spirit mosquito familiar with this.
[view] • [talk]
Spirit Mosquito Pouch is made by using a Summoning pouch on a Summoning obelisk with 1 spirit shard, a Gold charm and a proboscis in the inventory. Making the pouch earns 46.5 experience points. Using the pouch to summon a Spirit mosquito gains 0.2 experience points, and costs 4 Summoning points. If players exchange their Spirit Mosquito pouches at Bogrog, they will receive 1 spirit shard per pouch.
Pester scroll
Edit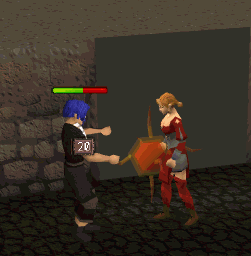 A Pester scroll enables the use of the Pester special move for a Spirit mosquito. Using the pouch on a Summoning obelisk creates 10 scrolls.
Pester is a special move for Spirit mosquitos, which sends a mosquito to attack the enemy.
Tips: It is not recommended to exchange these at Bogrog, as you will save much more money by simply selling them on the Grand Exchange.
In theory, a player can get 99 summoning in one trip using only Spirit Mosquito pouches at level 17 at the Gu'tanoth obelisk. All the ingredients stack and, after creating the pouches, they can be immediately swapped with Bogrog to recover some of their shard content, reducing costs. This could also be done at any other obelisk, but then scrolls must be made. If done so the player will need to make 280,247 pouches. The costs for doing so are very high as the proboscis is worth 6,628 coins in the Grand Exchange and the spirit shards are 25 coins each. Also the time needed to gather all charms is also a lot. It would take approximately 1,170,960,000 coins for that many proboscis alone, excluding shards and pouches.
Gold charm

Spirit wolf • Dreadfowl • Spirit spider • Thorny snail • Granite crab • Spirit mosquito • Bull ant • Spirit terrorbird • Barker toad • War tortoise • Arctic bear • Spirit war pig • Spirit prayer pig • Spirit pack pig

Green charm

Desert wyrm • Compost mound • Beaver • Void ravager • Macaw • Spirit cockatrice • Spirit guthatrice • Spirit saratrice • Spirit zamatrice • Spirit pengatrice • Spirit coraxatrice • Spirit vulatrice • Magpie • Abyssal parasite • Ibis • Abyssal lurker • Bunyip • Fruit bat • Forge regent • Giant ent • Hydra • Unicorn stallion • Abyssal titan

Crimson charm

Spirit scorpion • Spirit Tz-Kih • Vampyre bat • Honey badger • Evil turnip • Pyrelord • Bloated leech • Smoke devil • Spirit cobra • Stranger plant • Ravenous locust • Phoenix • Granite lobster • Praying mantis • Talon beast • Spirit dagannoth • Swamp titan • Wolpertinger • Iron titan • Pack yak • Steel titan

Blue charm

Albino rat • Spirit kalphite • Giant chinchompa • Void shifter • Void spinner • Void torcher • Bronze minotaur • Iron minotaur • Spirit jelly • Steel minotaur • Spirit graahk • Spirit kyatt • Spirit larupia • Karamthulhu overlord • Mithril minotaur • Obsidian golem • Adamant minotaur • Fire titan • Ice titan • Moss titan • Lava titan • Rune minotaur • Geyser titan

Other

See also: Summoning • Beast of Burden • Forager • Charms • Summoning Obelisks • Summoning pets • Summoning pouches • Summoning scrolls • Wishing well • Dungeoneering familiars