Ad blocker interference detected!
Wikia is a free-to-use site that makes money from advertising. We have a modified experience for viewers using ad blockers

Wikia is not accessible if you've made further modifications. Remove the custom ad blocker rule(s) and the page will load as expected.
Spined armour sets
contain
Spined armour
. They are made by exchanging a
Spined helm
,
Spined body
,
Spined chaps
,
Spined boots
, and
Spined gloves
with a
Grand Exchange
clerk. The set's purpose is purely to save space and for use in the
Grand Exchange
. The set can be exchanged with a
Grand Exchange
clerk to receive the items listed above. Players need to have completed
The Fremennik Trials
to wear any of the items that are in this set. To wear the entire set, a player must have 50
Defence
.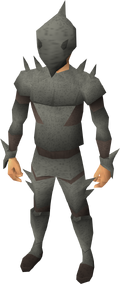 Components and Bonuses
Edit



Item

Mainhand info

Off-hand info

Attributes

Strength bonus

Style

Dmg
Acc

Style

Dmg
Acc
Spined helm
-
-
-
-
-
-
146
0
0
-
12
-
Spined body
-
-
-
-
-
-
168
0
0
-
18
-
Spined chaps
-
-
-
-
-
-
161
0
0
-
15
-
Spined gloves
-
-
-
-
-
-
36
0
0
-
7
-
Spined boots
-
-
-
-
-
-
36
0
0
-
7
-
Totals
-
-
-
-
-
-
547
0
0
-
59
-
Standard

Melee

| | |
| --- | --- |
| Plateleg sets | |
| Plateskirt sets | |

Ranged
Magic

Treasure Trails

Melee

| | |
| --- | --- |
| Plateleg sets | |
| Plateskirt sets | |

Ranged
Magic
Prayer
 Third age

Barrows
God Wars Dungeon
 Torva
 Virtus
 Pernix
Others