Spider
Release
4 January 2001 (Update)
Members
No
Examine
Incey wincey.
Combat info
Level
LP
XP
XP
1
50
24.9
8.2
Equipment XP (2H/MH & Armour/OH)
1 / 0 / 0
Aggressive
Poisonous
Slayer
Level
XP
Category
0
6.4
Spiders
Assigned by
Offensive
Max hit
4
4
0
? (edit)
Style
Speed

4 ticks (2.4s)

Combat levels
Defensive
Armour
Weakness
110
1
Affinities
80
70
60
50
Immunities
? (edit)
? (edit)
? (edit)
[FAQ] • [doc]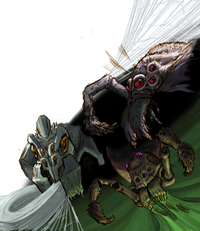 Spiders are found all over RuneScape, but most notably in the third floor of the Stronghold of Security, where they can be found at combat level 15 and in large numbers. Level 15 spiders are aggressive and can hit up to 44 life points. Like rats, spiders usually do not appear on the minimap. It should be noted that they can drop charms.
Locations
Edit
No charm
91–93%
2–3%
3–4%
1–1.8%
1–2%
Represents a 90% confidence range based on a sample of 1,937 kills.
1 charm is dropped at a time.
Add data to the log (requires JavaScript).
Tertiary drops
Edit
Universal drops
Edit
Universal drops are dropped by nearly every monster outside of Daemonheim.
These drops are dropped alongside main drops.
| | Item | Quantity | Rarity | GE price |
| --- | --- | --- | --- | --- |
| | Key token | 1 | Rare | Not sold |
According to the 2009 Hallowe'en event, spiders come from the Spider Realm, a different realm to RuneScape.
The spider at Ape Atoll Temple respawns every 2 seconds.
Despite the fact that Jagex said to have updated all spiders across the game, only the spiders in Taverley dungeon are currently updated with a new look.
A non-interactive spider may appear in the choosing route section of Temple Trekking.
Ad blocker interference detected!
Wikia is a free-to-use site that makes money from advertising. We have a modified experience for viewers using ad blockers

Wikia is not accessible if you've made further modifications. Remove the custom ad blocker rule(s) and the page will load as expected.