Spider
Release date
4 January 2001 (Update)
Members?
No
Combat level
2,22
XP per kill
88 (and 29 experience)
Slayer level
1
Slayer XP
2 (level 1), 22 (level 24), 50 (level 50)
Assigned by
Turael or Spria
Always drops
Nothing
Examine text

Incey wincey. (level 1)
Incey wincey... with a nasty bite. (level 24)
It's an extremely small brown spider, probably very poisonous. (Ape Atoll)

Combat stats
LP
Max hit
50, 550
15 (level 1); 62 (level 24)
Attack
Defence
Ranged
Magic
Unknown
Unknown
Unknown
Unknown
Other
Immune to Poison?
Immune to Stun?
No
No
Attack Speed

Speed 6 (Interval: 2.4 seconds)

Aggressive?
Poisonous?
No (except on Ape Atoll and Stronghold of Security)
No (except on Ape Atoll)
Attack styles
Weakness
Ranged
Melee

Crush

[view template]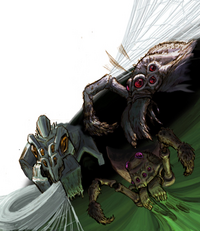 Spiders are found all over RuneScape, but most notably in the Stronghold of Security, where they can be found at combat level 24 and in large numbers. Level 24 spiders are aggressive and can hit up to 60 life points. They can also be found on the third level of the Stronghold of Security, like rats they usually do not appear on the minimap. It should be noted that they can drop charms.
Locations
Edit
Related Species
Edit
100% drops
Edit
Other drops
Edit
Note: The level 1 spiders in the Lumbridge Castle basement have no regular drops, but very rarely will drop charms.
Note: The spiders in the Stronghold of Security don't drop anything.