Common Stronghold Ape Atoll
Spider
Release date
4 January 2001 (Update)
Members?
No
Combat level
2
XP per kill
25 (and 8.2 experience)
Always drops
Nothing
Examine text
Incey wincey.
Slayer info
Slayer level
1
Slayer XP
5
Assigned by
Turael or Spria

Combat stats
LP
Max hit
50
4
Attack
Defence
Ranged
Magic
1
1
1
1
Other
Immune to Poison?
Immune to Stun?
No
No
Attack Speed

Speed 6 (Interval: 2.4 seconds)

Aggressive?
Poisonous?
No
No
Attack styles
Weakness
Ranged
Melee

Crush

[view]
Spider
Release date
4 July 2006 (Update)
Members?
No
Combat level
22
XP per kill
36 (and 11.8 experience)
Always drops
Nothing
Examine text
Incey wincey... with a nasty bite.
Slayer info
Slayer level
1
Slayer XP
8
Assigned by
Turael or Spria

Combat stats
LP
Max hit
550
44
Attack
Defence
Ranged
Magic
1
11
11
1
Other
Immune to Poison?
Immune to Stun?
No
No
Attack Speed

Speed 6 (Interval: 2.4 seconds)

Aggressive?
Poisonous?
Yes
No
Attack styles
Weakness
Ranged
Melee

Crush

[view]
Spider
Release date
6 December 2004 (Update)
Members?
No
Combat level
2
XP per kill
22.4 (and 7.3 experience)
Always drops
Nothing
Examine text
It's an extremely small brown spider, probably very poisonous.
Slayer info
Slayer level
1
Slayer XP
5.7
Assigned by
Turael or Spria

Combat stats
LP
Max hit
50
4
Attack
Defence
Ranged
Magic
1
1
1
1
Other
Immune to Poison?
Immune to Stun?
No
No
Attack Speed

Speed 6 (Interval: 2.4 seconds)

Aggressive?
Poisonous?
No
Yes
Attack styles
Weakness
Ranged
Melee

Crush

[view]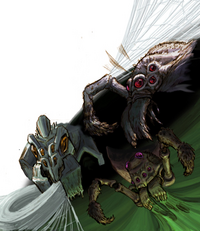 Spiders are found all over RuneScape, but most notably in the third floor of the Stronghold of Security, where they can be found at combat level 22 and in large numbers. Level 22 spiders are aggressive and can hit up to 44 life points. Like rats, spiders usually do not appear on the minimap. It should be noted that they can drop charms.
Locations
Edit
Related Species
Edit
Represents 90% confidence range, based on a sample of 1,323 kills.
1 charm is dropped at a time.