Spellcaster gloves
Discuss

6
22,499pages
on this wiki

Spellcaster gloves
are a set of
degradable
gloves that can be obtained in the
Dominion Tower
. They require 80
Magic
to wield. Since players must be at least
combat level
160 and have completed at least 20
quests
involving Dominion Tower boss monsters, these are effectively additional requirements for the gloves.
Players can choose between four different colours of Spellcaster gloves: black, white, yellow, and red. Additionally, the gloves have an animation that resembles blue flames coming off them. Spellcaster gloves degrade after four hours of combat and must be reobtained from the Dominion Tower afterward.
Combat properties
Edit
Combat Stats

| Class | Slot |
| --- | --- |
| Magic | |

Weapons
Main
Off
Damage
-
-
Accuracy
-
-
Type
-
-
Attributes
Armour rating

96

Life bonus

+240

Prayer bonus

0

Critical bonuses

0%

0%

0%

Attack speed

Average

Interval: 3.6 seconds

Compare item

[view] • [talk]
Special attack
Edit
When fighting with the gloves', the gloves will randomly execute a special attack that does extra damage. When cast on a player, it drains their attack, strength, and defence by 10%. This special attack will only trigger when the player casts combat spells.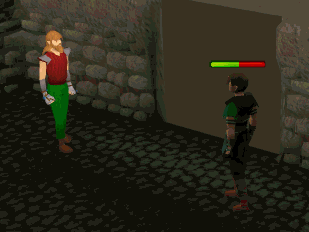 Obtaining
Edit
Total level: 1,341

75

-

66

75

61

50

65

57

55

64

66

53

70

61

52

75

25

56

35

65

49

60

65

41

-

----

110

103

31
To unlock the option to receive Spellcaster gloves as a reward item from the Strange face, players must meet a number of requirements:
Defeat a total of 500 bosses in either Climber or Endurance matches. The victories do not have to be consecutive.
Defeat the following bosses in the Tower at least once:
The skill levels required to complete the above quests are detailed in the box to the right. These effectively function as additional requirements to obtain and use Spellcaster gloves.
Degrading & reobtaining
Edit
Spellcaster gloves degrade and fall apart after four hours of combat. Players can check the condition of a given pair of Spellcaster gloves by right-clicking them and selecting "check-state". It is important to note that, in contrast to most other degradable items, Spellcaster gloves count upward from 0% degraded (perfect condition) to 100% degraded (falling apart). For example, a pair of Spellcaster gloves that is 75% degraded has been used for three hours, and has one hour of usage remaining before falling apart.
While a pair of Spellcaster gloves cannot be repaired, it is possible to obtain multiple pairs from the strange face by killing another 5 bosses in either Climber or Endurance matches; this will earn an invisible "reward credit" that can be exchanged for a pair of Spellcaster gloves, Goliath gloves, Swift gloves, or 100 dreadnips. The strange face will store up to 15 such "credits", after which they must be redeemed in order to earn more. A player may only have 3 pairs of Spellcaster gloves at any one time.
The 5-boss kills to get a set of gloves can be used up for any dominion reward that requires 5 boss kills to get an item, such as dreadnips. It is possible to unlock but be unable to get the gloves on the 500th boss kill if you have taken dreadnips any time after kills 496-499.
Spellcaster gloves along with all other Dominion Tower gloves do not display any particle effects in the Adventurer's Log.
After the update on September 4, 2012, spellcaster gloves' particle effect is green. This has been fixed.
Prior to the full release of the Evolution of Combat, Spellcaster gloves had a defence requirement of 80.

Wizard •

Imphide •

Spider •

Mystic •

Splitbark •

Lunar •

Skeletal •

Batwing •

Infinity •

Subjugation •

Ganodermic •

Virtus •

Spellcaster •

Static
Bosses

Class A

Nomad • Pest Queen • Decaying avatar • Eruni • Ayuni • Leeuni • Dagannoth Mother (Blood Runs Deep) • Zenevivia

Class B

The Untouchable • Damis • Fareed • Kamil • Dessous • The Everlasting • The Illusive • Dagannoth sentinel • Karamel • Gelatinnoth Mother • Nezikchened

Class C

Balance Elemental • Jungle demon • Arrav • Ice demon • The Inadequacy • A Doubt • Giant Roc

Class D

Arrg • Barrelchest • Chronozon • Evil Chicken • Flambeed • Agrith-Na-Na • Dessourt • Giant scarab

Class E

Bouncer • Koschei the deathless • Arzinian Avatar • Black Knight Titan • General Khazard • Black Knight guardian

Class F

Dad • Dramen Tree Spirit • Agrith Naar • Dagannoth mother (Horror from the Deep) • TokTz-Ket-Dill • Black golem • Grey golem • White golem

Class G

Treus Dayth • Elvarg • Culinaromancer • Tumeken's shadow • The Kendal • The Draugen

Class H

Tarn Razorlor • Sigmund • Melzar the Mad • Count Draynor • Delrith • Solus Dellagar

Miscellaneous

Sunfreet
Power-ups

| | |
| --- | --- |
| Weapons | |
| Bombs | |
| Dom potions | Dom super restore • Dom saradomin brew • Dom super antipoison • Dom super prayer |
| Other | |

Gloves

Goliath gloves • Spellcaster gloves • Swift gloves

Mines
Miscellaneous

Xp book • A journal page • Dominion journal • Dreadnip • Dominion marker • Dominion medallion • Super dominion medallion