Sparkly Crystal is the son of the troll warlord Pretty Flower, who is encountered during the King of the Dwarves quest. During the quest, he is called Unnamed Troll Child. He is named after the first thing he ate, which was a sparkly crystal inside the cave. He can be found in the tunnel next to the Black Guard Headquarters along with Pretty Flower, Big Rock and My Arm. You can give a pretty flower to him after completing the quest, though there doesn't seem to be any reward obtained for doing so.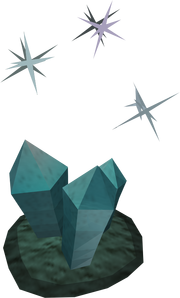 You can also use a Big rock on him for some amusing dialogue.
Mountain trolls
Ice trolls
Aquatic trolls
Troll bosses
NPC trolls
Ad blocker interference detected!
Wikia is a free-to-use site that makes money from advertising. We have a modified experience for viewers using ad blockers

Wikia is not accessible if you've made further modifications. Remove the custom ad blocker rule(s) and the page will load as expected.