Sparkles the Tinsel Snake is a members-only pet that was obtained as an extra reward from the 2011 Christmas event. Players will be notified by Sedridor that an enchanted piece of decoration has been causing havoc in the kitchen and he tells players that if they catch it, they can keep it. Sparkles is located in the jars where the Christmas puddings are jumping. After a few tries, Sparkles will jump out of a jar and you will need to catch it.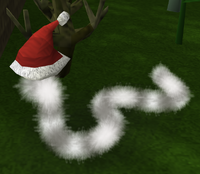 Sparkles, like any other pet, can be dismissed and lost upon death. (Note: Sparkles originally could not be dismissed by those who had not completed Wolf Whistle until a later Runescape update.)
To dismiss Sparkles, right-click on the Summoning icon in the upper right corner of your screen and select "Dismiss" (the seventh option from the top below "Choose Option"). You will be asked to confirm this "Are you sure you want to dismiss your pet?" Selecting "1. Yes" will then make Sparkles run away. However, Sparkles will return to Diango and can easily be retrieved at any time.
If players ask Sparkles if he wants to play a game, after a lengthy conversation about inconveniencing people and animals, he will think of a number between 1-10 and players will have to guess the number.
Trivia
If players try to drop Sparkles in the basement of the Wizards' Tower Christmas event area, a message will appear stating, Sedridor does not want creatures running around the banquet area.
While having Sparkles out in a members world and logging into a free-to-play world will cause Sparkles to disappear and not appear in the player's inventory; logging back into a members world will cause Sparkles to reappear on the ground.
When trying to use the Christmas Banquet Portal while Sparkles is out, Wizard Sinterklaas will tell players "Sorry, no pets allowed in the banquet area".
Players cannot call Sparkles while in the Grand Exchange, "You cannot call the familiar into this place." If players leave the G.E. and make Sparkles reappear, they can bring it back in. This is the case for ALL other pets, currently.
Sparkles doesn't eat, as it tells the player it doesn't have a stomach. Instead of the hunger showing "N/A" it permanently stays at 0%.
Some players have reported that they are unable to retrieve Sparkles from their menagerie.
When using Sparkles with a Wintumber tree, Sparkles will say "Don't even think about it sssssssssssssunshine!"

File:Sparkles disappearing glitch.png

Sparkles invisible.

When asked about its hat, Sparkles will state that it was stolen. The player assumes that it stole its hat from Santa Claus, which might not be true as all Tinsel Snakes sport Santa hats.
There is currently a glitch that causes Sparkles to turn invisible when viewed at certain angles, leaving behind a floating Santa hat.
Sparkles is one of the few untradeable items that players can feed to their baby troll pet.
If players put sparkles in a toy box in their house and then go to a pet shop and ask if they have any strays they will give players another Sparkles.
Gallery
Easter

Easter egg • Bunny ears • Rubber chicken • Easter ring • Chicken set • Chocatrice cape • Easter carrot • Squirrel ears • Sunbeam crown • Icicle crown • Egg on face mask • Chocolate egg on face mask • Eggsterminator

Hallowe'en

Pumpkin • Halloween masks • Scythe • Zombie head • Jack lantern mask • Skeleton set • Grim reaper hood • Warlock / Witch costume • Web cloak • Eek • Bone brooch • Deathcon lanyard • Deathcon t-shirt • Hourglass • Sock mask • Buskin mask • Hallowed robes • Unhallowed robes • Ectoplasmator

Christmas

Christmas cracker • Partyhats • Santa hat • Yo-yo • Hats and scarves • Marionettes • Wintumber tree • Reindeer hat • Snow globe • Santa costume • Ice amulet • Ghost costume • Candy cane • Salty claws hat • Heimland games souvenir • Christmas wand • Sparkles • Santa beard

Thanksgiving
RuneFest

Flagstaff of festivities • Runefest 2011 hood • Golden scythe

Commemorative

Golden cracker and (hammer) • 200m glasses • 10th anniversary cake and candles

Cryptic Clue Fest

Magnifying glass • Investigator's outfit • Rock fragment • Avalani's robes • Mysterious book • Diamond sceptre • Diamond crown

Other

Lily of the valley • Oktoberfest pretzel • Carnival headdress • Skull mask
Summoning

| | |
| --- | --- |
| Dogs | Bulldog • Dalmatian • Greyhound • Labrador • Sheepdog • Terrier |
| Birds | Penguin • Raven • Saradomin owl • Guthix raptor • Zamorak hawk • Ex-ex-parrot • Phoenix eggling • Vulture |
| Slayer | Creeping hand • Minitrice • Baby basilisk • Cresbot • Baby kurask • Baby aquanite • Abyssal minion • Freezy • TzRek-Jad |
| Hunter | |
| Quest | |
| Others | |

Cats

Cat • Wily cat • Hellcat • Purple cat • Clockwork cat

Fire creatures

Warming Flame • Twisted Firestarter • Searing Flame • Glowing Ember

Holiday
Others
Solomon's General Store
Squeal of Fortune