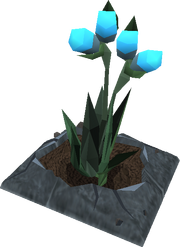 Soulbell (plant) is a plant located only within a dungeon in the skill Dungeoneering. The plant is found fully grown and can be picked if the player has 60 Farming or higher, giving 44 experience per piece. Picking the plant yields 1-7 pieces of Soulbell.
In Thok Your Block Off, it is called Frilly plants by Thok, and has an examine of Marm make new clothes with this. Maybe Thok make something too.
Food seeds
Herb seeds
Plants
Ad blocker interference detected!
Wikia is a free-to-use site that makes money from advertising. We have a modified experience for viewers using ad blockers

Wikia is not accessible if you've made further modifications. Remove the custom ad blocker rule(s) and the page will load as expected.