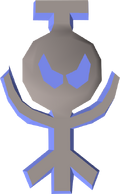 A soul talisman is an unreleased Runecrafting talisman that was added to the game config on 1 December 2003. It was first discovered on the Jagex website via URL manipulation. Jagex removed the image of the soul talisman from the website shortly thereafter. The Grand Exchange Database also contained images of the Soul talisman, which were subsequently removed. With the RuneScape Companion app update, the image once again became accessible. The soul talisman is not obtainable in-game and therefore cannot be used to access the soul rift that exists in the abyss or to activate the wicked hood's soul altar teleport.
Ad blocker interference detected!
Wikia is a free-to-use site that makes money from advertising. We have a modified experience for viewers using ad blockers

Wikia is not accessible if you've made further modifications. Remove the custom ad blocker rule(s) and the page will load as expected.