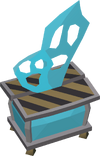 The soul-in-a-box is an item that can be manufactured using the Invention skill. It requires level 24 Invention to discover. The blueprint is used to discover how to make a soul-in-a-box, which is a reward from Nomad's Elegy. Once made, it is reusable and can be activated to summon a Distracting Soul that aids in pickpocketing. Each Distracting Soul costs 100 charges from the charge pack and lasts for 1 minute. Players may only summon one soul at a time.
If powering a charge pack with a divine charge, 30 distracting souls can be summoned per divine charge which gives an average cost of 2,479.63 coins per soul summoned when charges are bought from the Grand Exchange.
Disassembly
Edit
Ad blocker interference detected!
Wikia is a free-to-use site that makes money from advertising. We have a modified experience for viewers using ad blockers

Wikia is not accessible if you've made further modifications. Remove the custom ad blocker rule(s) and the page will load as expected.